Day 1 – An embarrassing start after so much planning
Monday 12th May
Edale to Crowden – 16.3 miles
Mum had arrived in Sheffield by train on Saturday evening and we spent much of Sunday sorting out last minute preparations. However, we did manage a short walk in Chelsea Park with Mel, Tom and our dog, Sam. Unlike the run up to our Coast to Coast adventure in 2006 I was feeling relaxed and fully prepared – this was about to back fire…
The alarm went off at 6 a.m. After breakfast we made packed lunches and said goodbye to Jane who was getting ready for school. Mel gave us a lift to Dore station where we joined the commuters on the unmanned platform. Here comes the embarrassing mistake….
At exactly 7:21 a.m., the time our train was due, a small train pulled into the station, and we eagerly boarded with the commuters on their way to work in Manchester. Just as the doors were closing we overheard a fellow passenger ask if the first stop was Stockport – PANIC….. surely we hadn't got onto the wrong train – yep, ours was following only 2 minutes behind. The British Rail employee serving drinks just sniggered when we asked if the driver might let us out at Edale. We reluctantly purchased extra tickets to Manchester Piccadilly and spent the next 40 minutes feeling rather foolish, looking very out of place in our walking gear amongst all the suits and laptops. We arrived in Manchester at 8:00 and caught the 8:44 stopping train back to Edale. We used the time to phone Brigantes to rearrange the pickup time for our luggage – " Hooray for mobile phones" -not a phrase you will often hear me utter. Anyway, to cut an embarrassing story short we deposited our bags at the Old Nags Head, took the obligatory photos and were on our way by 10 a.m. – only 2 hours behind schedule!
Once relieved of our luggage and moving under our own steam I began to feel calmer and more in control. Already in shorts we began to enjoy the start of what was going to be a period of wonderful walking weather.
We welcomed the gentle alternative start to the Pennine Way as we traversed the hillside to reach the steep climb up Jacobs Ladder. Mum wisely took her time and we took a breather at the top for a drink and some chewy banana pieces for extra energy. Although not strictly necessary my new GPS was working well, alerting us at all the crucial turning points. On reaching Kinder Low I assured Mum that we had broken the back of today's climbing so we pushed on to Kinder Downfall where we ate half of the packed lunch. On the way round the rim of the plateau we met several other walkers but once past Mill Hill our walking became solitary. The paved path across Featherbed Moss made for easy walking although Mum had to stop for a change of socks, as her feet were very hot. After crossing the busy A57 we met a group, all wearing matching green T-shirts, coming down Devil's dike, they were carrying spades and pickaxes, presumably returning from some community conservation project. Further on, the moor was littered with white builders bags full of seedlings then remembering an article I had heard on Radio 4 we assumed it was something to do with the ongoing attempts to stabilise the peat by replanting cotton grass.
In the sunshine Bleaklow was not at all foreboding but even with the good visibility the GPS did prove useful in determining the right direction. There is no sign of a path on the ground so in the mist it would be essential to follow a compass bearing. Our B&B hosts in Crowden were to tell us later of many a Pennine Wayfarer who had aimed too far north and ended up meeting the Woodhead pass 4 miles up the valley. Glad to be on our way down and out of the breeze the evening sunshine banished our fleeces to our packs and we arrived at Old House at 6.30. The gradient of the last descent was a bit tough on the knees - I was pleased I had decided to pack my walking poles.
Joanne greeted us with tea and biscuits, served in the lounge overlooking the Longdendale valley. We were offered a lift to the pub but decided to eat in. Joanne provided an excellent choice of evening meals and it was a delight only having to walk about 6 paces between our room and the dining room table. Joanne even raided her own first aid cupboard to save us detouring down into Glossop for some forgotten items it the morning. Dad phoned at 9 p.m. but Mum was already asleep.
Thought for the day:
Deb – the embarrassment of getting on the wrong train is fading - but not fast enough
Mum – Today was filled with a mixture of excitement and anticipation and I am trying to heed Deborah's suggestion to forget about the train incident
Pictures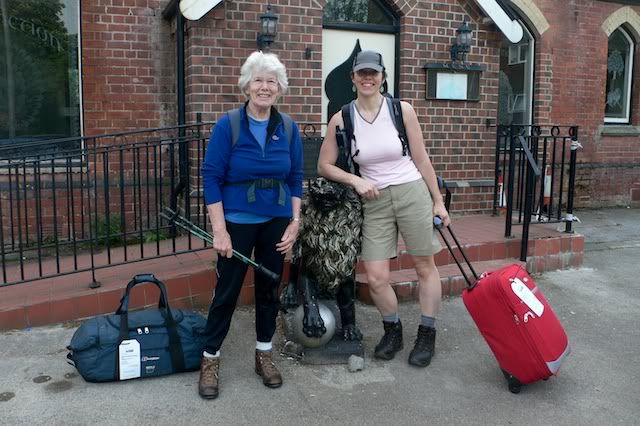 Dore Station, Sheffield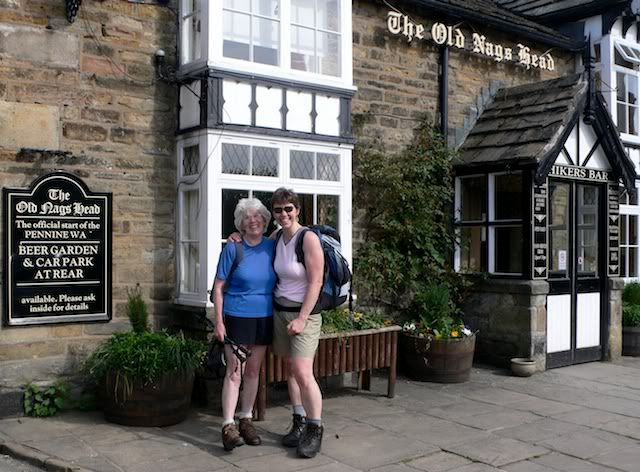 The Old Nags Head, Edale



The gentle alternative start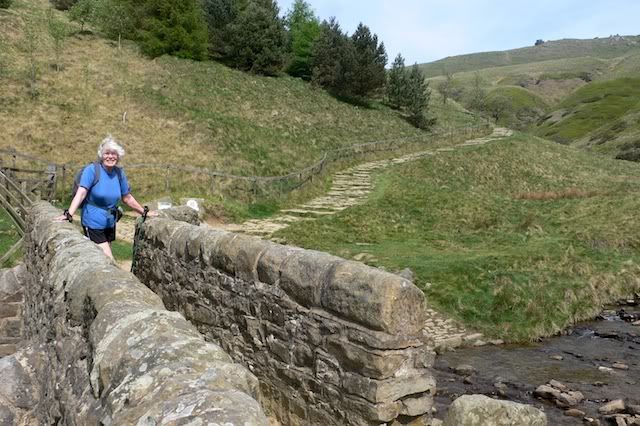 The footbridge at the bottom of Jacobs Ladder



Mum plods her way to the top of Jacobs Ladder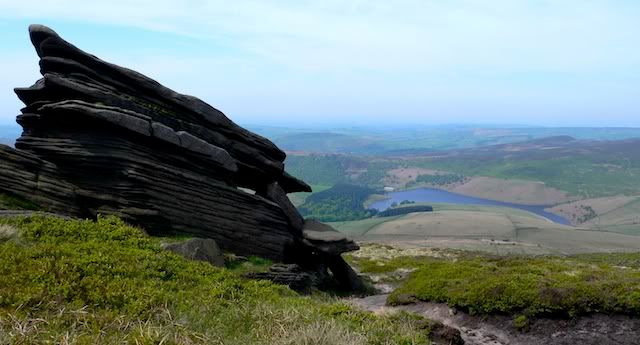 Looking west towards Kinder reservoir from Kinder Low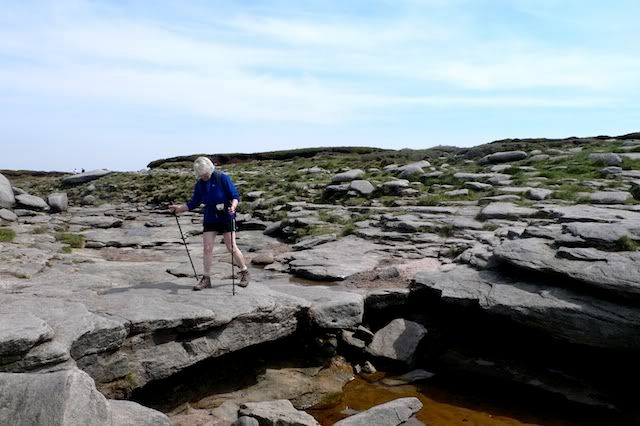 Mum crossing the top of Kinder Downfall



Looking towards Mill Hill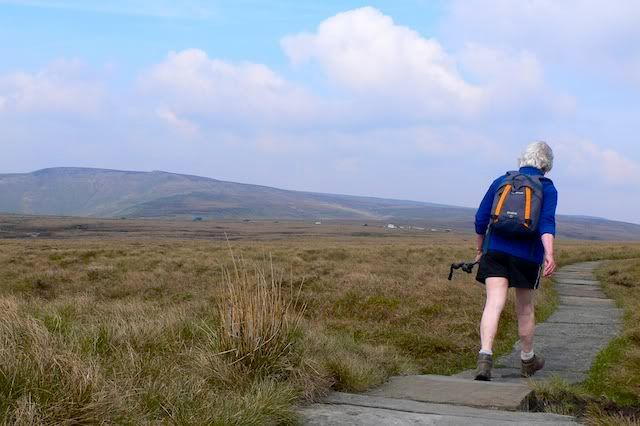 The long paved path across Featherbed Moss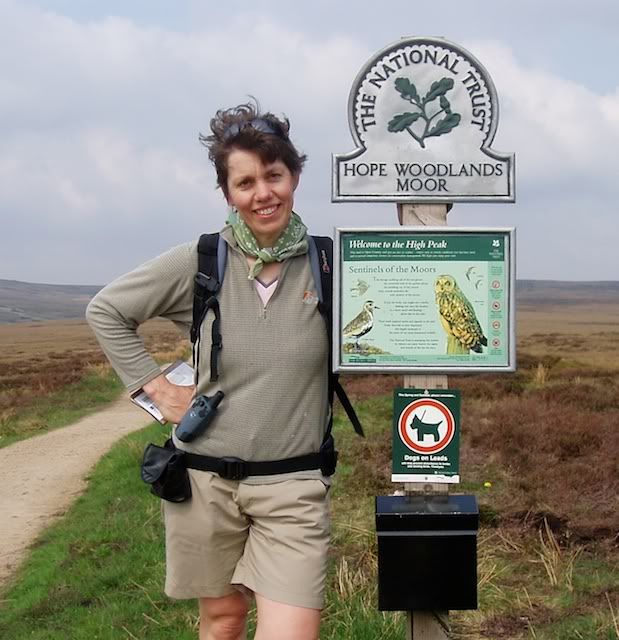 Heading towards Bleaklow after crossing the A57




Conservation work on Alport Moor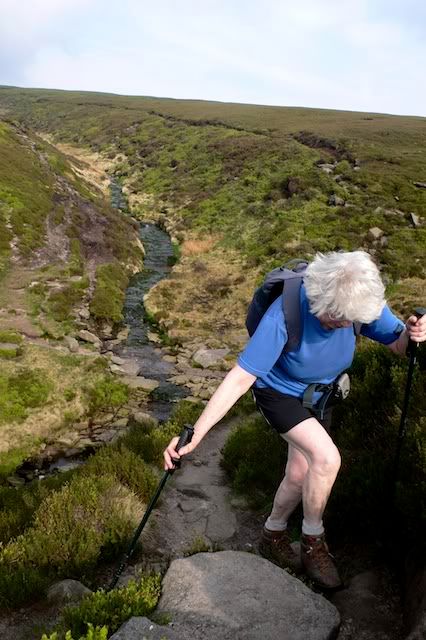 Mum climbs out of Torside Clough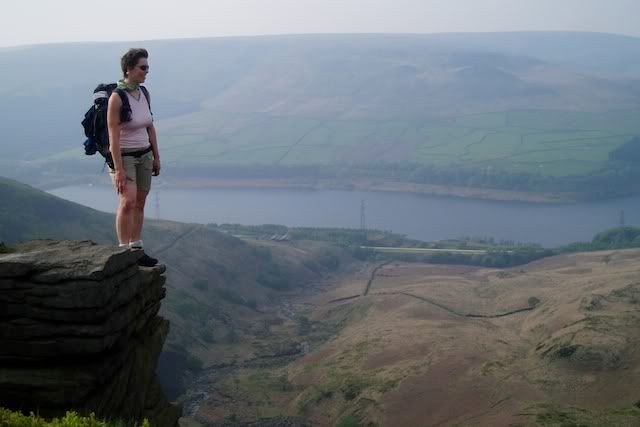 Looking down to Torside Reservoir in Longdendale



The Old House, Crowden