Day 10 - A short day and a lazy afternoon
Wednesday 21st May
Tan Hill to Bowes

8.3 miles
We were woken at 4.30 a.m. by the early morning sunshine and the crowing cockerel outside in the pub car park. We had no quarrels with the sunshine but did wish we had packed an air rifle for the cockerel – only joking!
A table for six was set in the bar, we joined a young couple from Huddersfield and when Wendy and Steve came down Tracy, the landlady, appeared and announced that if we wanted tea and coffee we should make it ourselves. Uncertain of this unorthodox approach to hospitality we made moves towards the kitchen. It soon became apparent that it was just Tracy's unusual sense of humour and she did in fact make the drinks. After juice and cereal, six full English breakfasts arrived – not the time to decline the baked beans we thought. Tracy announced that it was far too quiet and put on the Tan Hill CD; a song all about the pub and its characters delivered in a Chaz 'n'Dave style. Then half way through the full English Mum let out a scream as a large rubber spider dropped onto her head from the ceiling. Once the commotion was over and Mum realised she wasn't about to have a heart attack we noticed Tracy giggling behind the bar. She was obviously keen to make our visit memorable! Anyone staying at the Tan Hill will certainly remember it but be warned – be prepared for anything!
We waved goodbye to Wendy and Steve from our bedroom window as they set off across the moor on their 25 mile leg to Forest in Teesdale – a destination we were not due to reach until Friday. We took our time packing up as today we had only about 8 miles to cover. When we finally came down with our bags Tony, the driver from Brigantes, was waiting in the bar. He didn't rush us and was happy to stay for a chat about our walk and the local area. A lovely man, obviously enjoying his semi retired status.
Setting off at 10 a.m. we left a very bemused Chinese tourist in the bar having just been told that he had to pay £1 to use his mobile phone in the pub – Tracy up to her usual tricks again….
We set off in shorts but soon stopped to cover our legs as it was quite chilly. The route down from Tan Hill would have normally been boggy so we were very grateful for the good weather. The only people we saw on Sleightholme Moor were a couple in a 4x4 vehicle trying to get up to the Tan Hill Inn, we directed them as best we could and continued to the point at which the trail splits. We took the right hand route to take in the Bowes loop. Almost immediately the busy A66 came into view carrying numerous lorries across the northern Pennines. The terrain became more lush and green as we continued through farmland along the river, eventually reaching the ruins of Bowes Castle where we both admitted to feeling quite weary despite our short day. Bowes village felt like a ghost town, any anticipation of getting some lunch was fading fast; even the post office was closed. Reaching the Ancient Unicorn Hotel at 3 p.m. we were greeted by a note on the door directing us to our room in the converted stable block across the courtyard. We deliberated on getting a taxi into Barnard Castle at a cost of £13 but on reflection we decided to have a lazy afternoon, enjoying a long soak in the bath, doing some laundry and watching a bit of TV until supper. Whilst lazing around in towels on the bed we noticed two minibuses pull into the courtyard – sure enough it was the HF group – due to our state of undress all we could do was to pop our heads round the door, wave and shout "see you tomorrow".
On the stroke of six we were in the bar asking for the menu. At first the pub was quiet but as we sat enjoying the real fire the locals started to trickle in. Missing out on lunch tempted us into having three courses – Goats cheese salad, soup, Beef goulash, lamb chops and pear & almond tart to finish – yum! Luckily the portions were of sensible proportions so we were able to enjoy all three. We sauntered back to our room across the courtyard to watch 'The Apprentice' before yet another early night
Thought for the day:
Deb – a bit disappointed by the lack of facilities in Bowes
Mum
–

Today I've been thinking about the miles already covered and those still ahead, we must be approaching half way soon. Deborah informs me that we have walked 142 miles and will hit the halfway point tomorrow –wow!
Pictures


The Tan Hill Inn



Morning coffee on Sleightholme Moor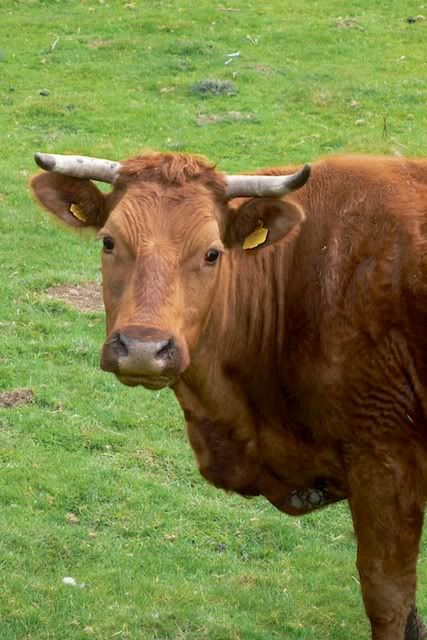 A friendly cow on the path near Sleightholme Farm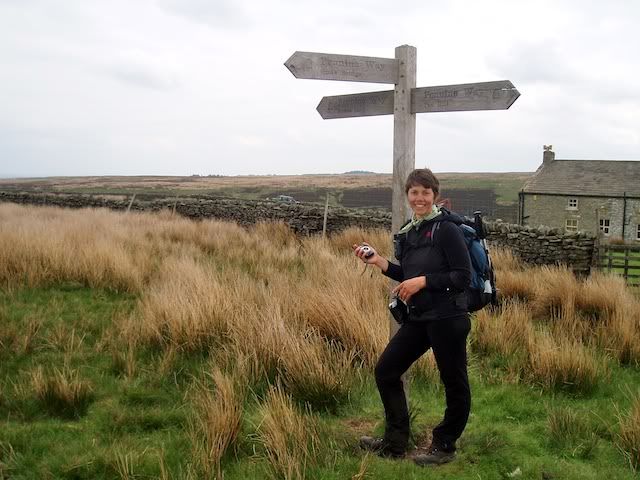 The trail splits here - we took the Bowes Loop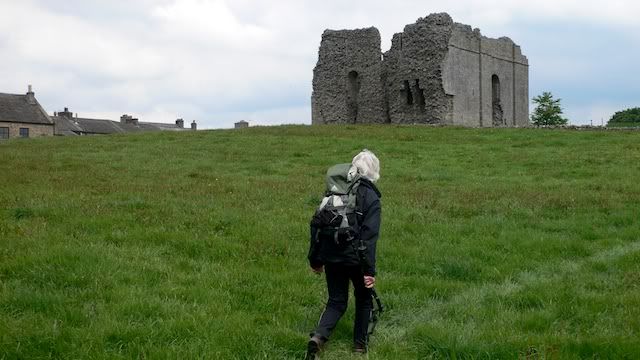 The ruins of Bowes Castle



The Ancient Unicorn Inn, Bowes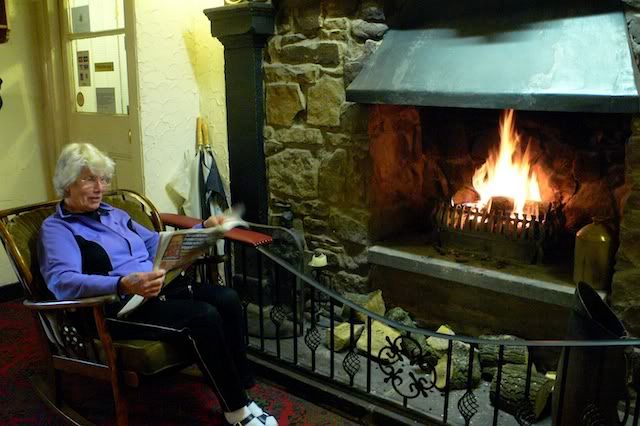 Mum waiting for her pub supper