Day 11 - More reservoirs and a final goodbye to the HF group
Thursday 22nd May
Bowes to Middleton-in-Teesdale 13.4 miles
This morning we slept right through until 7.30 and awoke to a cloudy morning. Breakfast was uninspiring, the Ancient Unicorn obviously has little competition in the area and as a result does not offer value for money. We set off at 9.30 am and the village seemed just as dead as the day before but at least the post office was open. Unfortunately this was also the only shop in Bowes and it sold an odd assortment of goods, very few of which could be considered suitable for lunch. We settled for some chocolate and the last two mini quiches, hoping that they were reasonably fresh. Walking back up the road through the village we noted the unusual architecture and passed the property that inspired Charles Dickens to write Nicolas Nickleby. We later discovered that Dickens had stayed in The Ancient Unicorn and we could of asked to see his signature.
After crossing the A66 we climbed up steadily through an area littered with ministry of defence signs warning us not to pick up anything that we might find. We pondered on how such notices would affect the value of local properties but learned later that the area was soon to get a clean bill of health. Today was another day punctuated by noisy, low flying lapwings; presumably defending their nest sites. Just before Deep Dale we walked past a very unusual property with a steeply pitched thatched roof. It was obviously being renovated and was being guarded by two dogs. We followed a footpath diversion sign which led to a dead end so had to make use of the GPS to get back on track. Before too long we were heading westward towards Goldsborough, a lone gritstone outcrop in an otherwise featureless moor. We decided to make it a coffee stop and as soon as we had found a suitable boulder to sit upon we noticed the HF group heading towards us across the moor. They too made the rocks a drinks stop and we stayed a while to be sociable before moving on. After crossing Blackthorn reservoir we met two mature gentlemen with very suntanned knees out for a days walk, they alerted us to look out for Hannah Hauxwell's meadow, an area normally full of wild flowers but I think we may have been a little too early in the season to see it at its best. We stopped for lunch on the hillside above Lunedale and were passed for the final time by the HF group who were heading for the reservoir for their lunch stop.
At the Grassholme Bridge we paused to look at the PW progress board and met a fellow Pennine Way walker called Nick Mac heading south. We soon realised that he was the fellow Eric and Susan had told us about, doing the walk in both directions in aid of cancer research. It seemed an appropriate place to meet as we were exactly half way through our trip and he was three quarters the way through his. We wished him well and promised to sponsor him on our return home.
Now there was just Wythes Hill to climb and Harter fell to traverse before the gentle descent into Middleton-in-Teesdale. As we walked the final few yards up the main street we were greeted by two minibuses honking their horns – it was the HF group ending their 5-day Pennine Way taster. We waved furiously at all the grinning faces in the windows as they left town.
Belvedere House was quickly located in the centre of Middleton, just opposite the rather grand looking Teesdale Hotel. Jenny was very welcoming and chatted to us about her interest in sewing, patchwork and quilting. Jenny obviously loves the Arts and Crafts and Belvedere House is furnished with much of her needlework.
We had private use of a large Victorian bathroom just across the landing and yippee, it had a large bath! Unfortunately I was only able to half fill it before the hot water turned to cold and as the plug leaked it was a quick dip for me and Mum had to use the same water – not quite so yippee….
Before supper we took a stroll around Middleton, noting the fine architecture of this Quaker-founded town. We particularly liked the extra wide pavements and central green areas. The town has a very traditional and slightly old fashioned feel to it. The menu at the Teesdale Hotel tempted us in but the bar area was a bit tired: full of slightly grubby pink seats and populated by patrons who looked as if they had come straight from a rest home for the elderly. We ordered but chose to eat in the dining room that, thankfully, had a fresher feel to it. The hearty fish pie was excellent and we chatted to a couple of fellow diners from Sutton Coldfield. After coffee we headed for bed – just 30 yards across the road.
Thought for the day:
Deb – looking forward to the drama of some big waterfalls tomorrow
Mum
–

It is a joy to be in the company of fellow walkers who are always anxious to be helpful and never seem threatening in any way
Pictures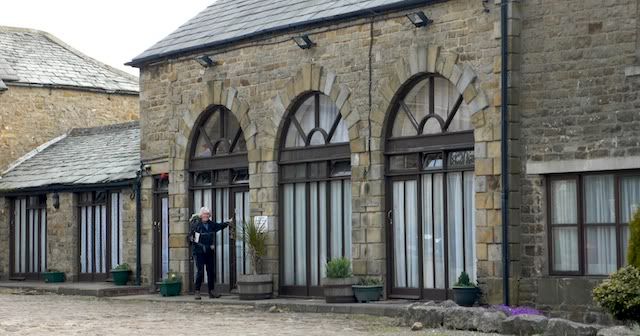 Leaving our room in the converted stable block



Bridge over the busy A66



Slightly worrying signs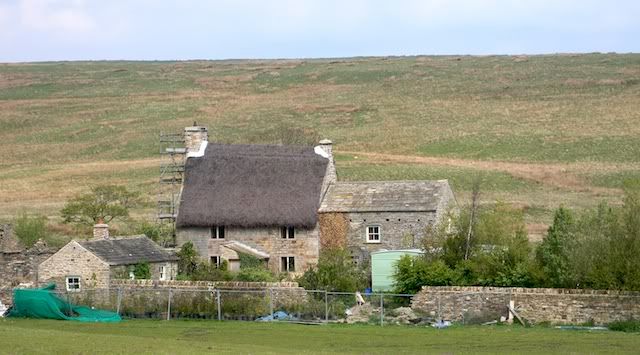 Levy Pool in Deep Dale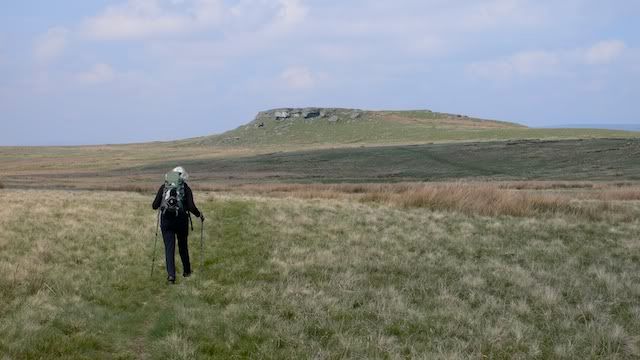 Mum heads for Goldsborough Rocks



The HF group catch up again!



The walkway through Hannah Hauxwell's meadow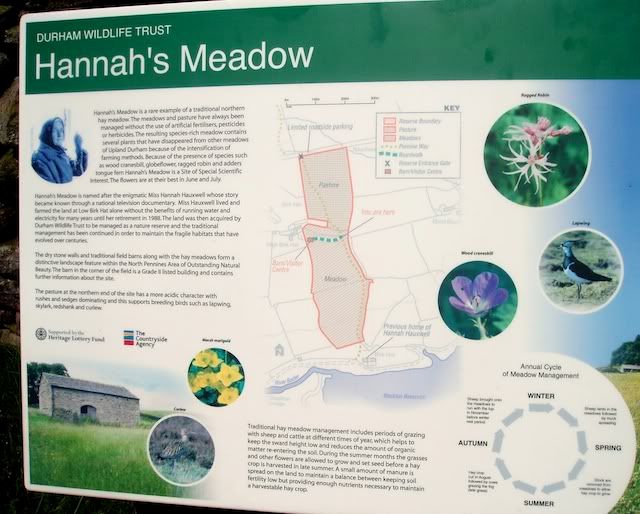 Hannah's Meadow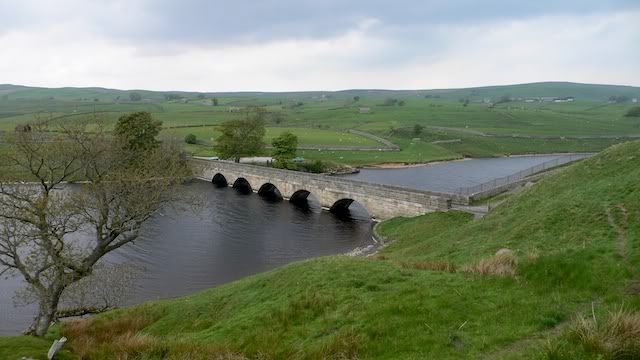 Grassholme Reservoir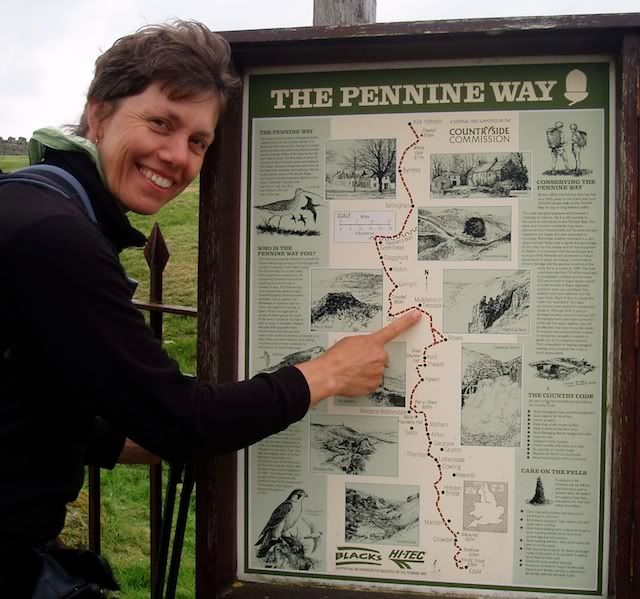 Look Mum Half Way!



Dropping into Middleton-in-Teesdale



Belvedere House in Middleton