Day 16 - An interesting alternative route
Tuesday 27th May

Slaggyford to Burnhead on Hadrian's Wall

14.3 miles
We awoke to a cloudy morning, the first time we hadn't seen any blue sky, but at least it wasn't raining. Mary made us a lovely breakfast. Mum had a poached egg on toast and I was tempted by Mary's offer of scrambled egg with smoked salmon, expecting the usual egg with tiny bits of salmon. The most perfect scrambled egg arrived on homemade toast with a large piece of smoked salmon perched on the top, garnished with fresh dill – heaven! Homemade preserves followed with lots of good hot tea.
After taking a couple of photos, I would of liked to take more but I was running very low on memory, we bid farewell to David and Mary. They seemed to be genuinely pleased that we had enjoyed our visit. The Pennine Way leaves Slaggyford right next to Yew Tree Chapel and we set off laden with packed lunches, a flask and all our waterproofs. Our planned route today was to cover about 17 miles with an 18 mile day to follow on Wednesday. I know Mum was beginning to worry about her fitness so a quick consult of the map suggested the slightly easier option. Following the South Tyne Trail all the way to Haltwhistle then picking up a footpath that would take us directly to our B&B on Hadrian's Wall. This route would miss out Greenhead but it had several advantages – less distance, less ascent, easier underfoot conditions and a chance for me to buy some more memory for my camera in Haltwhistle. Decision made, we set off at a good pace seeing curlews and oyster catchers performing aerial displays for us over the wetlands on either side of the trail. At Lambley we unexpectedly had to leave the railway, just before the station house, and descend rather a lot of steps to go under the magnificent viaduct before climbing up the other side to rejoin the railway. Apparently there is no longer a right of way along the track through what is now part of the station house garden – we were to learn later that there had been a lot of politics involved but not to worry as it made a pleasant interlude to the level walking and allowed us to see at close hand the amazing engineering involved in building such a structure. Apparently some of the individual stones were found to weigh nearly a ton when restoration work was done in the 1990's. Back on top of the viaduct we were walking high above the tree canopy and had marvellous views down into the wooded valley below.
The OS map indicated that there might be a pub at the next road junction so with the dark skies in mind we decided to call in for our lunch. Only a few yards away from the trail we stepped over the threshold of The Wallace. Once inside, we were greeted by the dry sense of humour of both the barman and the local patrons. Several quips were made but we stood our ground and ordered broccoli and stilton soup and a plate of chips. I introduced Mum to the delights of Fentiman's Ginger beer and I had a half of the local brew. We had fun sparing with the locals soon to be joined by Ned, a local who runs a burger van and farms a small holding to the north of Hadrian's Wall. Suitably refreshed in both mind and body we set out for Haltwhistle with warnings that it was a strange place but it did now have a Sainsbury's … ooh er!
By mid afternoon we were in Haltwhistle, the old railway guiding us directly to the current railway station. The only public loos were out of order so we had to call in at the Station pub - we got some very strange looks from the local teenage boys around the pool table.
Haltwhistle does not have a camera shop but we found a very helpful electrical store that was able to sell me a 2GB SD memory card – HOORAY, I was back in business. We discovered the new Sainsbury's and then had tea and scones in 'La Toot' a lovely little café and gift shop in the centre of town. The café was very warm inside which made us reluctant to leave especially as it had now started to rain. We found a good footpath taking us north out of Haltwhistle, along the side of a burn which brought us to the road right next to the Milecastle Inn. Here our B&B was signposted as being just 800m away. Half a mile later Christine and David welcomed us into their lovely home at Burnhead. Our wet things were whisked away and we were shown to our room where we made our own hot drinks from a wide selection of teas and other beverages. David brought up a plate of homemade cake which we thoroughly enjoyed. Christine gave us a lift back down to the Milecastle Inn where we had a good supper and chatted to a family from Bridgenorth in Shropshire. We were now into the school half-term holidays so expected to see many more families – we all hoped for better weather to prevail for the next few days. After sharing a desert of hot raspberries and ice-cream we walked back up to Burnhead in time to watch The Apprentice on TV, a day early due to a big football match happening tomorrow. I started watching a documentary about Doris Lessing but fell asleep before it ended
Thought for the day:
Deb – Glad to replenish my camera memory
Mum
–

I would very much like Roy to see the amazing construction of Lamley viaduct. He is at home in Wales building in stone in a more modest fashion
Pictures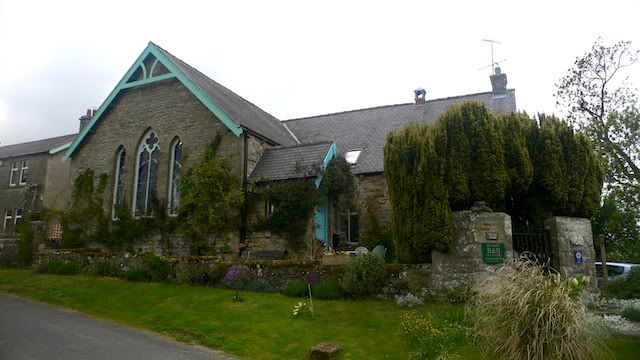 Yew Tree Chapel B&B



Lambley viaduct



Measuring the stones in Lambley viaduct



Easy walking on the South Tyne Trail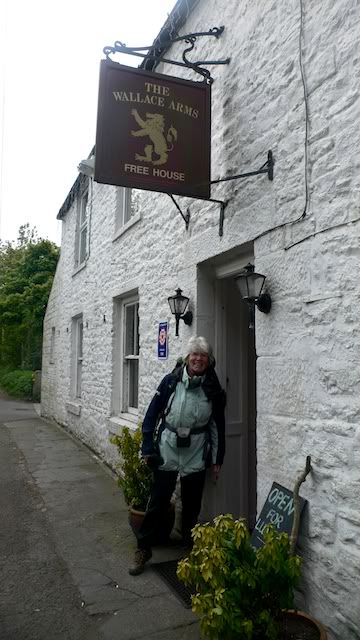 Lunch at the Wallace Arms in Featherstone Rowfoot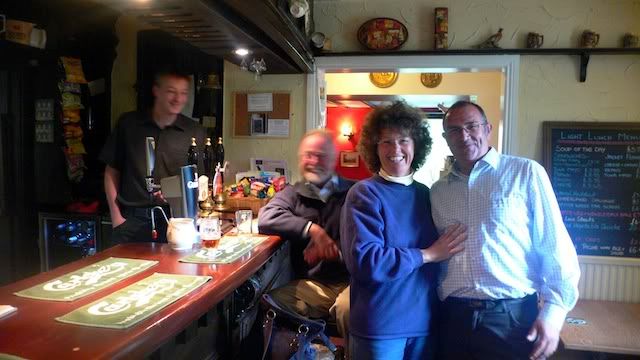 Meeting the locals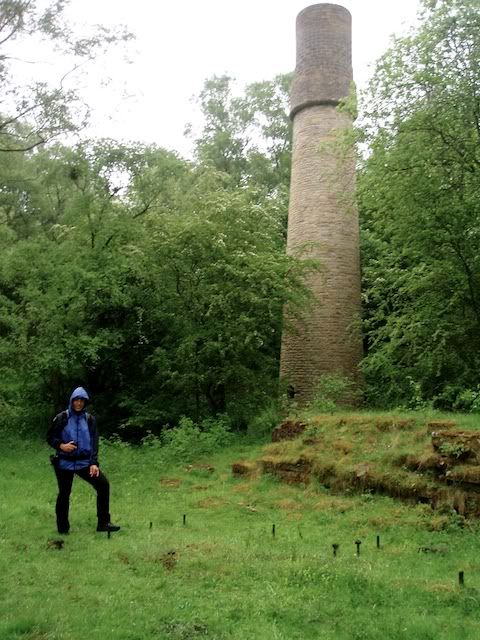 The footpath out of Haltwhistle