Day 17 - A day too far….
Wednesday 28th May
Burnhead to Bellingham 18.1 miles
We shared breakfast with two Dutch women who were walking Hadrian's Wall and we didn't get away until 9.30. The weather was pretty miserable today, not with heavy rain but we were walking in low cloud without the welcome distraction of any views. Within 5 minutes Mum stopped to put on her waterproof trousers then we set off along the Vallum just below the Wall. We were followed for a while by a local cat but it vanished when we had to climb up a steep bank to rejoin the Pennine Way path on the wall. Mum was finding it very strenuous, she had to keep stopping to lean on her poles and admitted to feeling a bit sick but her main concern was her general lack of energy. I noticed that despite her slow progress she was perspiring quite a bit. Feeling concerned I suggested we should slowly make our way to the visitor centre at Once Brewed just 2 miles along the Wall. It took nearly two hours to cover the next 2 miles, not pleasant for Mum as she was feeling so tired and we were now both becoming concerned about her health. It was obvious by now that she would not be able to continue at this slow pace. Once on the road down to the YHA at Once Brewed Mum began to feel a little better and quickened her pace but we both knew it was unwise for her to continue today. Pam at the visitor centre was extremely helpful, she found a bus timetable that would enable us to use public transport to get to Bellingham. After much discussion Mum assured me she was feeling better and was happy to make her own way to Bellingham. I split the lunch and set off to rejoin the path on Hadrian's Wall, still unsure about whether I should of left Mum. At least there was a mobile signal up here so we could stay in touch.
I met a few tourists on the wall looking rather bedraggled in the rain but was uplifted to meet Alan and Tom, a Dad and his 9 year old son thoroughly enjoying a walking and camping holiday along the Wall despite the awful weather. The route along Hadrian's Wall was surprisingly hilly – Mum would of really struggled, another good decision but I was hoping she wasn't feeling too down hearted.
Just before the Roman Fort at Housesteads I left the Wall, heading north towards Bellingham. I endured the damp conditions in solitude and had to resort to photographing plants and animals for visual stimulation. It was a bit spooky to be in the forest on my own but the silence was hauntingly beautiful and the heavy mist condensed on every surface. The only person I met today was a man doing some work at Leadgate, we chatted for a while about the local flora and fauna before I moved on. Some interesting farmsteads appeared out of mist as I traversed the undulating pasture land. There were a lot of streams to cross and I got my feet wet on several occasions. Nearing Bellingham I walked up through Shitlington Crags where the radio mast on Ealingham Rigg finally came into view. I tried to phone Mum several times but her phone was switch off – again I began to wonder if I had been right to leave her.
I arrived in Bellingham at 6pm as predicted. Crofter's End, our B&B for the night was the first house in the village and Mr Forster was waiting for me at the door with the good news that Mum was already in residence.
Mum emerged from a warm bath and filled me in on her day. It included the bus journey, a visit to a GP, an ECG examination and a consultation with the district nurse – thank goodness for our wonderful health service! Apparently the tests showed that Mum's heart was showing some signs of arrhythmia, a reoccurrence of an old problem that should improve with rest and careful monitoring. Mum was relieved to have an explanation but was now convinced that she would have to come back another time to complete the rest of the walk. However, she wanted me to continue. Luckily our host, Mr Forster, is also the Brigantes driver for this area and he was only too happy to transport Mum and the luggage over the remainder of the route.
We walked into the village and ate at The Cheviot Hotel. We were back at Crofter's End by 9pm but stayed up talking to Mrs Forster until nearly midnight. She reminded me so much of my Irish mother-in-law Jean. We enjoyed looking at some of the pastel paints she makes in a local cottage industry and learned lots about the local families, B&B life and how the local WI had helped Jean come to terms with the death of their disabled son who had died 12 years ago
Thought for the day:
Deb – Feeling very relieved that Mum has received the appropriate medical care and is OK
Mum
–

Finally, I have a medical explanation for my recent levels of exhaustion. I am very impressed with the local NHS in Bellingham. Although disappointed I feel relieved and obliged to take their advice and will gratefully use the Brigantes taxi service to complete the route
Pictures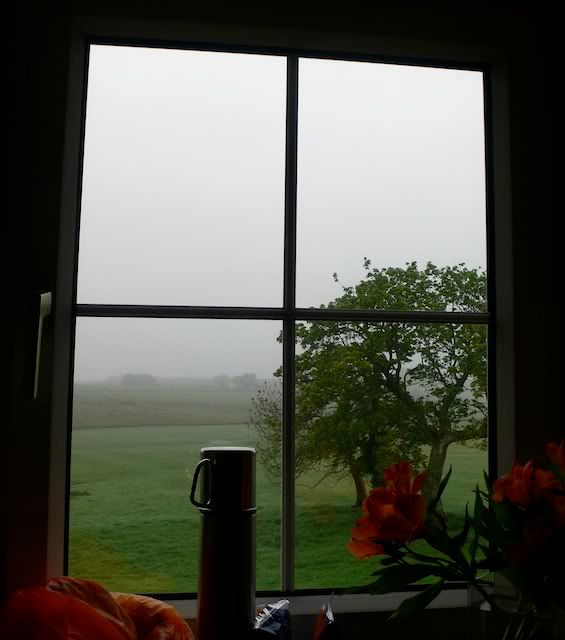 Awaking to a very wet morning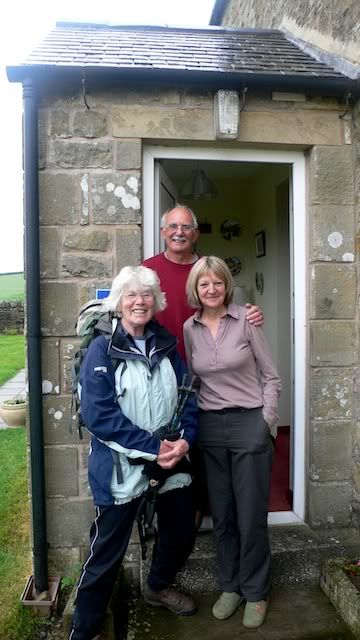 Saying Goodbye to Christine & David at Burnhead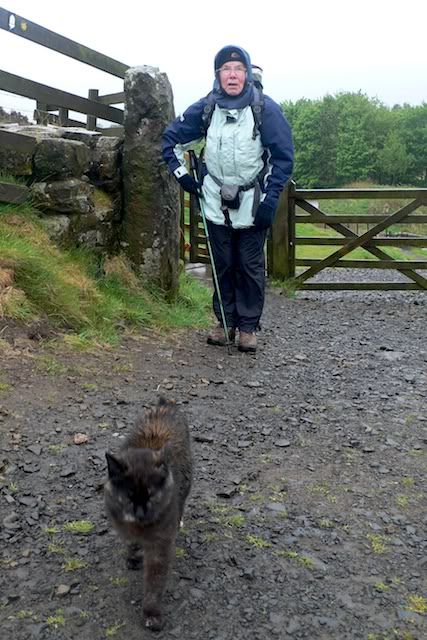 The cat that accompanied us to The Wall



Trudging to the trig point at Winshield Crags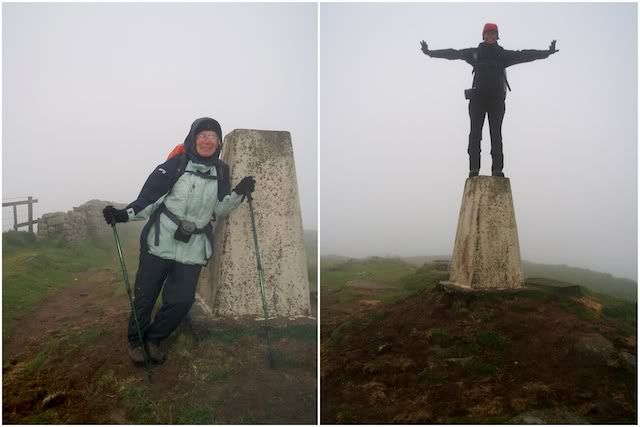 Every picture tells a story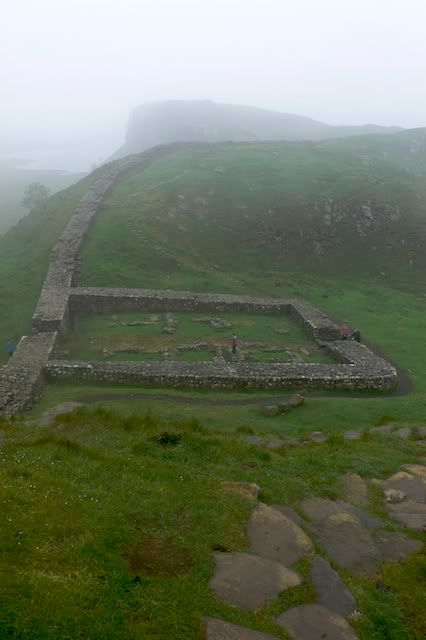 Milecastle 39 on Hadrian's Wall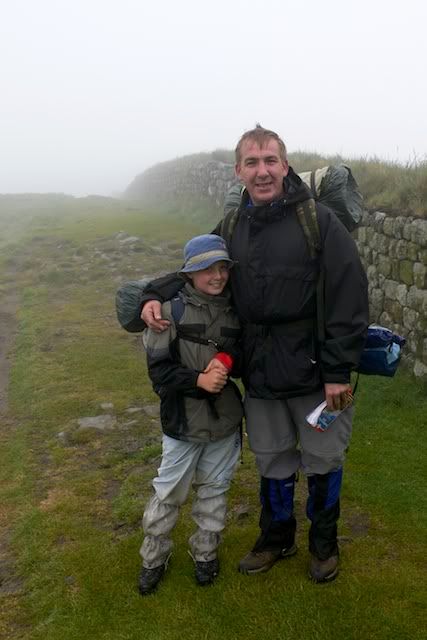 Alan and his 9 year old son, Tom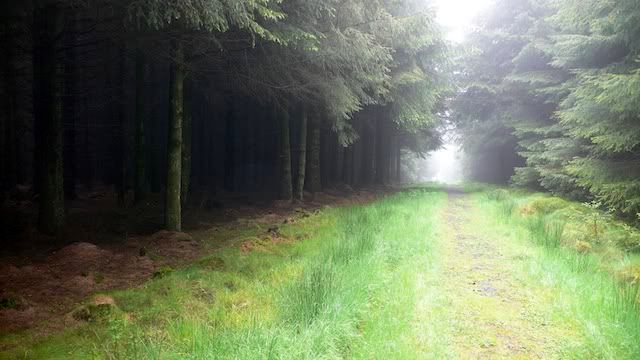 A spooky forest glade



Cowslips on the forest floor



Dew drenched cobwebs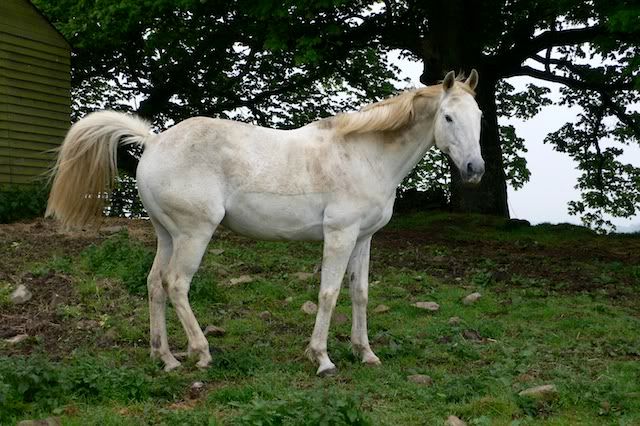 A very frisky horse



Farmland south of Bellingham