Day 19 – A very damp day, feral goats and a near disaster with the camera
Friday 30th May
Byrness to Uswayford farm 16.8 miles (18.3 including retracing my steps!)
We slept very well in our ground floor disabled suite, but unfortunately awoke to the sound of heavy rain. From the interesting array of breakfast items in the large cupboard in the hall we located some sachets of porridge and a tin of apricots then finished with toast and marmalade, sold in handy two slice packs from the fridge. I made up a packed lunch from yesterdays leftovers and various items from the hall cupboard – all at very reasonably priced. Whilst waiting for Mr Forster to arrive to collect Mum I programmed my GPS in the quiet room, I thought it preferable to doing on the hill in the rain.
Mum left at 9.45 with Mr Forster for her lift to Kirk Yetholm. I waved goodbye to Pete not expecting to see him again, even though he said we might meet up on the hill. I was away by 10.00 - back up the road to the Old Byrness Hotel where the Pennine Way climbs steeply onto the start of the Cheviot Hills. It was still raining and the trees looked very ethereal in the low cloud. Once onto the wide ridge the route was well marked but my GPS provided reassurance that I was in the right place as the visibility was down to only a few meters. My trusty walking boots were beginning to press uncomfortably on my big toe, I think they may have been soaked and dried out one too many times or maybe it was that I was now walking at a much faster pace. Using an old trick of my Dad's, I collected some sheep's wool and shoved in into the boot where the pressure was developing – it seemed to do the trick, although I did have to stop a couple of times to reposition the cushioning. The only hint of my fellow man was the distant rumble of firing by soldiers training on the Otterburn ranges. In the hope of something to photograph I took a slight detour to see the remains of the Roman camp at Chew Green. To be honest, I failed to determine any sign of the earthworks. Since then, I've been on Google Earth and the site looks quite impressive from the air but at ground level, in low cloud, it was a bit disappointing. Oh well, I was about to be surprised in an altogether different way. On my way back up to the ridge I spotted a figure, clad in blue waterproofs, heading towards me. Almost immediately I recognised the figure as Pete and wondered how he had got up there so quickly. After seeing no one all morning a second walker joined us within seconds and all three of us braved the soggy weather for a chat. Morris was a John O'Groats to Lands End walker, 30 days into his 80-day journey. He explained that he was waiting for a friend to catch up with him who was walking the Pennine Way in a southerly direction. I was asked to tell him to hurry up if I saw him, Morris assured me that his friend had a sense of humour and would not be offended by a strange woman telling him to get a move on. After a quick photo, at last something more interesting than mist and damp grass, I pushed on. After about a mile I did meet Morris's friend and passed on the message – thankfully it drew a smile. Morris had also told me to look out for the famous feral goats and just before reaching the mountain refuge hut I almost stumbled across three magnificent specimens right next to the path. I spent some time trying to get a good photo, happy to have another subject to punctuate the non-existent scenic views.
Sheltering in the isolated mountain hut I shared lunch with 3 walkers from the Newcastle area. They were carrying huge packs. I gratefully accepted the offer of hot tea from one of their numerous flasks. The hut contained a variety of emergency food rations, many of which had very ancient 'best before dates' but I guess in an emergency you wouldn't be too fussy. On leaving the hut I was distracted by more goats and nearly made a 90° error, thankfully a quick glance at the GPS alerted me to my mistake. Once back on the ridge I was again walking in thick cloud and although the map suggested there were interesting valleys on both sides I could see nothing but a few feet in front of me. It was quite a climb up to Windy Gyle and in the mist I almost tripped over the huge summit cairn and I thought it might be worth a photo – PANIC ! - my camera bag was no longer on my waist strap – I don't often swear but it's lucky no one was around to hear me. I tried to remember when I had last used the camera, but that was miles back – then I remembered stopping for a drink of water on my way up to the summit. I stashed my rucksack behind the trig point and made my way back down the hill. Thankfully the path was well defined but I did keep an eye on the GPS to ensure I was exactly retracing my steps. I scanned the wet ground trying not to think of all the images on the camera. Heading for where I thought I had stopped for a drink it seemed to be an awfully long way down and I began to imagine returning to the trig point only to find my rucksack gone. I told myself to stop imagining and to CONCENTRATE! At last, three quarters of a mile back down the hill, I spotted a small black camera case on the path – what joy! It was the happiest I had been all day, on the way back up to the trig point I almost didn't care if my rucksack was still there – of course it was, so all was well.
Thinking I might be late for supper at Uswayford farm I put a bit of a spurt on, enjoying improved visibility as I descended through the trees. Mrs Buglass greeted me at the door explaining that there were three more guests expected so I wasn't late. I chatted to Nancy over a pot of tea in the lounge, she looks as if she were in her early forties but later I learned she was 62 – obviously living for 20 years on this isolated farm suited her. She does much of her grocery shopping on the Internet and I was surprised to hear that Asda delivers to the farm although she did say it depended on who was driving the van. We had a giggle over the fact that she had ordered 6 six bananas but six bunches had arrived – I gladly offered to have banana sandwiches in my packed lunch tomorrow.
The three other guests, Mel, Dave and John, arrived at 6.30. They were at the end of their first day heading south on the Pennine Way. As they settled in I nipped upstairs for the first bath. Later we all tucked into Nancy's home cooking, I particularly enjoyed her delicious rhubarb pie. Mum phoned, assuring me she was safely in Kirk Yetholm and I spent the rest of the evening in front of the TV with Nancy, watching the final of 'Britain's got talent'
Thought for the day:
Deb – I was amazed to meet up with Pete again on the hill, a cheery face bisecting an otherwise dreary day
Mum
–

Happy to find that The Border Hotel in Kirk Yetholm can accommodate me for an extra night. I took a gentle stroll across the river into Town Yetholm for some excellent soup. A day of pottering!
Pictures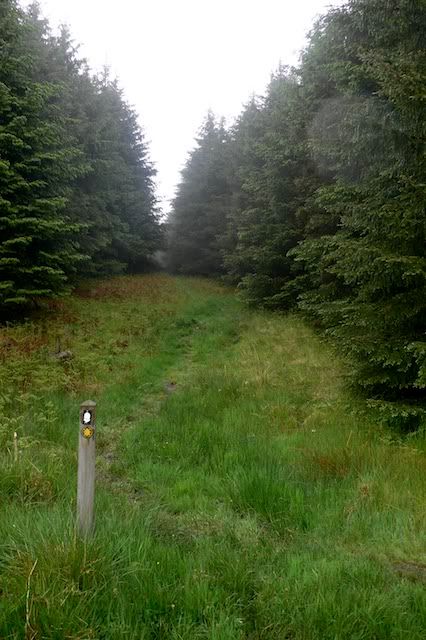 A damp start to a very wet day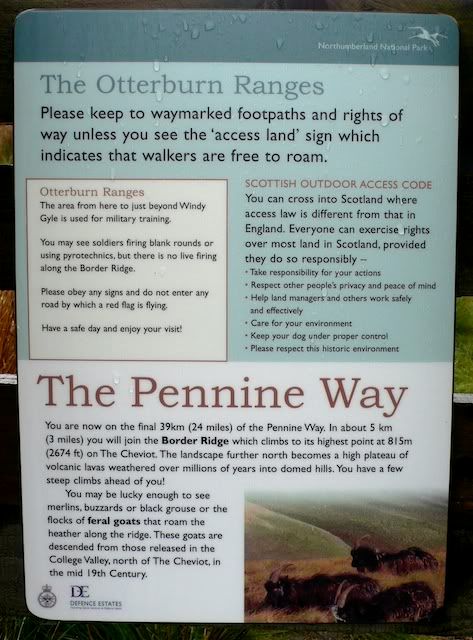 Information on the Otterburn Ranges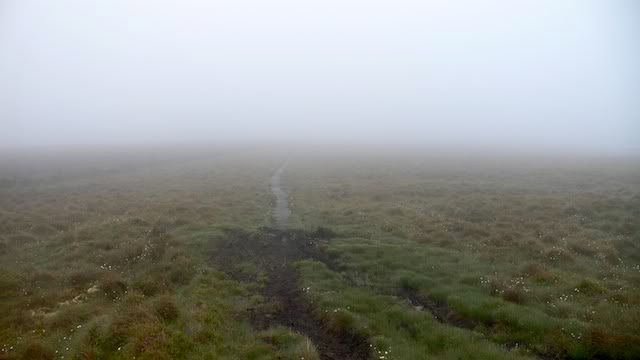 Minimal visibility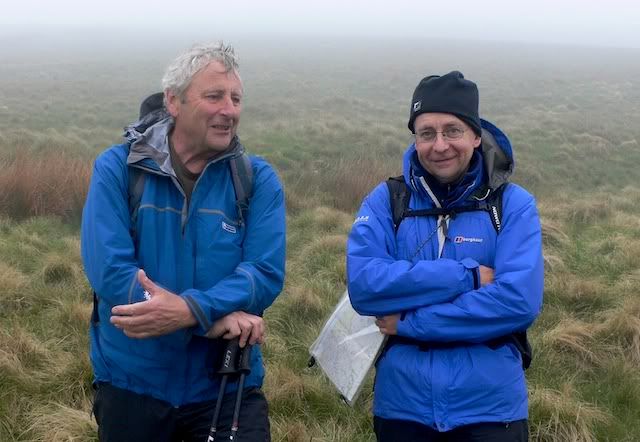 Out of the cloud came Pete and then Morris



One magnificant ferrel goat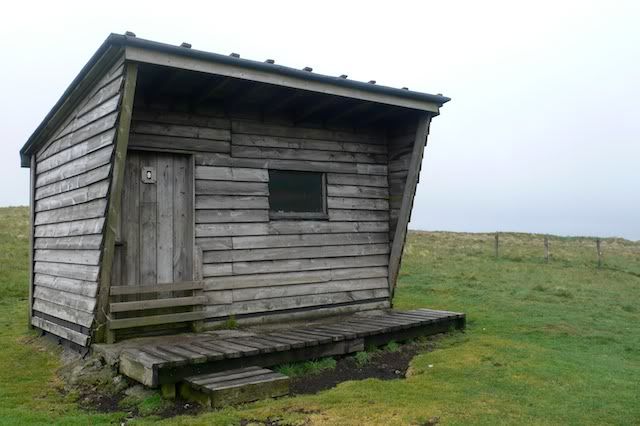 Mountain rescue hut just before Lamb Hill



More goats in the mist



My trusty GPS



The route off the ridge to Uswayford Farm