Day 2 – A day of wind, helicopters and reservoirs
Tuesday 13th May
Crowden to Standage – 15 miles
I woke at 5.30 and dozed until around 7 a.m. This was to become a pattern throughout the trip and it felt so much healthier than my normal sleep routine. We breakfasted with a couple that were on a touring holiday in their little MG sports car; I think they were off to the Lakes next. We had a mere 15 miles to cover today but they were suitably impressed with our efforts.
Joanne directed us across the fields, following a line of sawn off telegraph poles to reach the dam across the reservoir where we rejoined the Pennine Way. It was much cooler this morning, luckily Mum had retrieved her Ron Hills (trousers) from her case before setting off but was later to regret not fishing out her winter hat. We crossed the A628 with surprising ease and started the long ascent up to Laddow Rocks. As we climbed the wind picked up and Mum decided to don her trousers and coat as she felt she might be blown off the edge. The prevailing wind hampered our progress but we didn't stop until we descended off the ridge, down into Crowden Great Brook, here we were out of the gale and we enjoyed a sheltered picnic lunch in the sunshine.
As we neared the summit of Black Hill we could see a helicopter working at the top and I rushed ahead to take some photos of the fertilizer being spread from the huge carrier suspended from the helicopter. Three fellow Pennine Way walkers over took us, we were later to realise that there should have been four but one was trailing a long way behind. On our way down towards the Oldham to Huddersfield road we caught up with the same three walkers who were still waiting for their companion, they seemed an odd group; strangely unconcerned about their missing member. We moved on enjoying the views over to Holmfirth leaving behind the helicopter, still hard at work at the Holm Moss TV mast. Approaching the road it became obvious that Snoopy's refreshment caravan, mentioned in the guidebook, was not parked in the lay-by. Our expectations of a cup of tea had to be satisfied with half an orange. Descending into the Wessendale valley, the wind dropped and Mum removed her Ron Hills and finished the day in shorts. The valley was very peaceful and initially our only companions were a few sheep. The track continued to the second reservoir where Wessendale Lodge could be seen nestling amongst a patch of trees. As we neared the lodge the same three walkers caught up with us again, we were relieved to see that their 4th member had rejoined them, albeit looking very weary at the tail end of the group. With only a cursory acknowledgement they passed us and then stopped for a rest at the Lodge. As we walked by we sensed an atmosphere as all four of them sat a good 10 ft apart to either read their own guidebooks or have a snack. Later we were to learn more…..
Walking on we met a lovely couple from Surrey, both in their latter years, but still keen walkers even with one new hip! Like us, they too had walked the Coast to Coast and knew the famous Doreen Whitehead from Butt House. We exchanged stories for a while but Mum began to stiffen up so we bid farewell and pressed on. Soon we descended to cross a pretty stream then faced a 100m steep climb up the side of a valley full of waterfalls. Near the top there was a mini mast, where we stopped to finish our sandwiches. The two women from the group of four caught up with us and also stopped. We enquired of their struggling member and they explained that he had experienced a fall on his first day but had insisted on continuing and this had made him very slow – they seemed more irritated than concerned, making all the expected sympathetic comments but with little compassion. They tried to explain their extremely complicated transport arrangements that involved 2 cars and a lot of driving at each end of every day. I suppose each group must plan accordingly but it made us grateful for the services of Brigantes and our simple linear progression.
The route across Black Moss was very pleasant; the empty moor land only interrupted by the Swellands and Black Moss reservoirs. The late afternoon sun glinted off the water and the promise of civilisation appeared on the skyline. We were down to the A62 by about 5:30 pm and phoned Eric and Susan at Wellcroft House to let them know we were on our way. As we left the path to drop into Bleak Hey Nook, Eric appeared in his car and we were driven the last half-mile to the door –what a treat!
Eric and Susan are a lovely couple. They are both very involved in the Brass Band music scene. We chatted for a while but Susan had to leave to attend a parents evening – she is a music teacher at a local school. Eric explained that he had to go into Manchester to conduct a Brass Band and so would give us a lift to the pub for our evening meal. They were both very apologetic about having to change the arrangements but we didn't mind and their warm personalities made up for any disappointment in not sharing a meal with them. Eric drove us to a local Pub, I can't remember it's name or even if it was in Diggle, Delph or Dobcross but it served excellent food in very large portions. Susan joined us for a drink on her way home and gave us a lift back.
Wellcroft House is a traditional weaver's cottage complete with mullioned windows dating from 1768. The top floor has been converted into a guest lounge, which is where we watched a DVD about the Pennine Way from the air – the photography was excellent but the accompanying music and commentary was so awful I found it difficult to stay awake. Mum went to bed at 10, I stayed up for an hour trying to program tomorrows route into the GPS but was too tired so I gave up and went to bed.
Thought for the day:
Deb – I'm really beginning to enjoy this now – so grateful for the good weather but I might have to wear long trousers tomorrow as I've caught the sun on the back of my knees
Mum
– Looking down the valley towards Glossop this morning made me reflect on my maternal Grandfather who once lived there. Nearing Laddow rocks I tried to be comforted by Deborah's advice that the wind was blowing me into the hill but it was difficult to ignore the steep drop on the right hand side
Pictures

The dam on Torside Reservoir



Leaving the Longdendale valley - Woodhead pass in the distance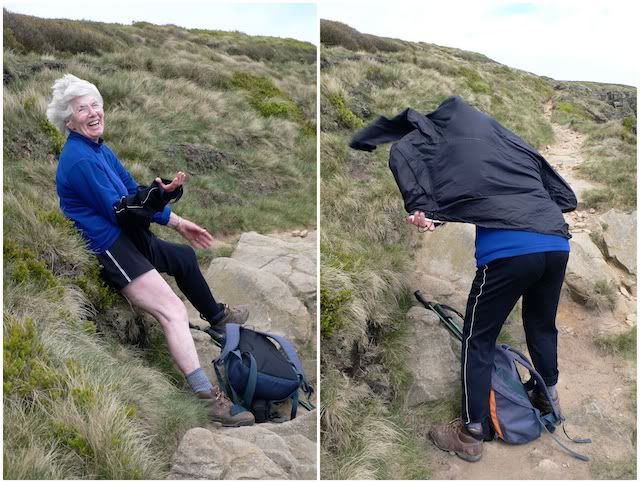 Mum battles with the wind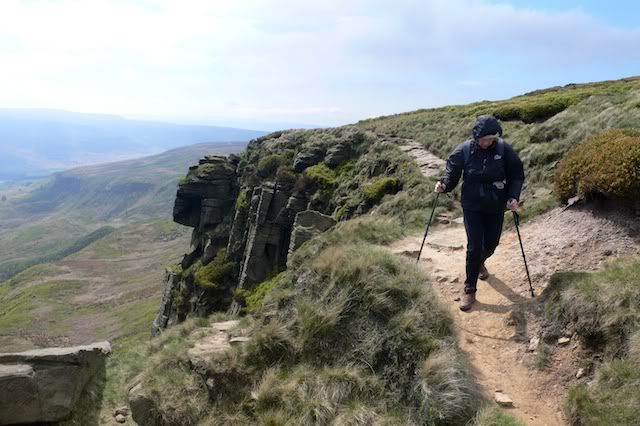 Walking high above Laddow Rocks



Empty moorland before Black Hill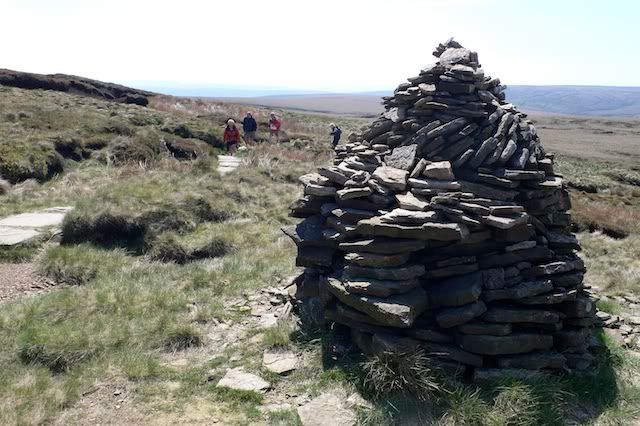 3 of the 4 PW walkers pass Mum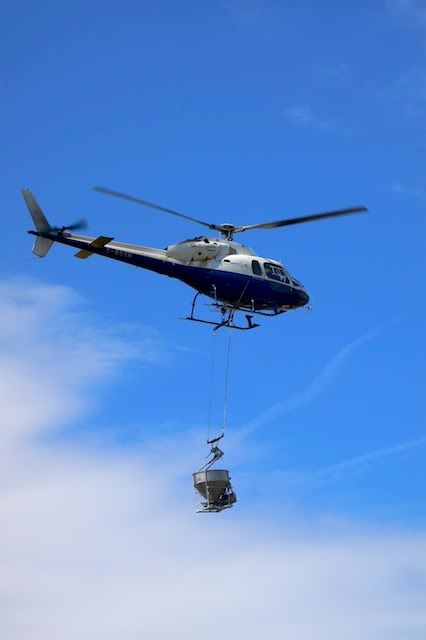 Spreading fertilizer over the moor



Approaching Soldier's Lump and the trig point on Black Hill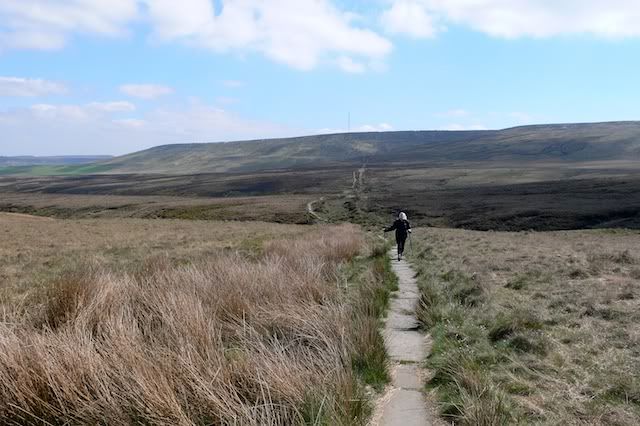 The undulating descent from Black Hill - Holme Moss TV mast



Wessenden Reservoir



Mum on the steep climb out of Wessendale valley