Day 20 – The final Day finishing in the sunshine
Saturday 31st May
Uswayford farm to Kirk Yetholm 15.5 miles
I woke at 4.30 and again at 6 a.m. It was a glorious morning and I began to wish I had asked for an earlier breakfast. To be sociable I waited for Mel, Dave and John to come down whilst putting the world to rights with Nancy in the large farmhouse kitchen. Mel, being the oldest, was the leader of the group of three men. I can't imagine him taking a back seat and he obviously likes to be in control. It didn't surprise me to learn that he did not approve of using a GPS and he was very particular about the texture of his boiled eggs and the sweetness of his orange juice. Before leaving I discovered that he was a VAT inspector – I'll say no more….
Having pulled on my boots for the last time I headed back up to the ridge in glorious sunshine. In the woods I caught sight of a small deer but as I fumbled for my camera it turned tail and with a flash of white disappeared into the undergrowth. Once on the top again I could now enjoy the views that were invisible to me yesterday. The ridge undulated for a couple of miles before it reached a point where I had to decide whether of not to detour to the Cheviot summit. The guidebook warned that it was not an impressive detour but as I was making good time I decided to go for it. Much of the path is over flagstones and it's true there is not much to look at. It took me 23 minutes to get there and 19 minutes to get back. I did meet a few fellow walkers including two guys from Newcastle, desperately trying to balance on a mound of grass to get a mobile signal. The only feature of any note was the magnificent trig point so I got one of the guys to take my photo next to it – maybe they too should of climbed up to get a better phone signal.
Once back on the main route along the border fence the wooden boardwalk made for easy progress. I was just getting hungry when I spotted Jenny and Joss heading for the mountain refuge hut. I called to them, caught up with them and we walked down the steep bank to have lunch together in the hut. Jenny and Joss were nearing the end of a long distant walk of their own devising and although I would of liked to chat to them some more I set out on my own as our walking paces were very different. A few more undulations ensued and I could at last begin to get excited about finishing the walk, albeit with mixed emotions as Mum was not sharing this last section with me.
With only about 5 miles to go I began to see more people on the hill including several groups of teenagers completing their Duke of Edinburgh challenges. For me there was only one last decision – whether to finish on the high-level route or to take the alternative lower level route into the valley. No question … it had to be the high route. The final ascent up to White Law looked tough but in fact was not too tiring – obviously the adrenaline of nearing the end was beginning to flow. As I started the final descent the lowland hills of southern Scotland opened up before me displaying a mixture of lush green farmland dotted with yellow gorse bushes. At last I spotted Mum slowly making her way up the hill to meet me. I called to her and we both made a grab for our cameras. After a big reuniting hug we walked down to the road together, after two days on my own it was lovely to be back with Mum. We strode into Kirk Yetholm at 3.30 pm. meeting several D of E groups sprawled out on the village green. We were booked into the Border Hotel and were surprised to learn that the promise of a free drink to all Pennine Way finishers was still valid. Never did a half pint of the local brew taste so good. All we had to do now was to relax in the sunshine until Dad and Roy turned up for an evening of celebrations and a lift back to Sheffield and Wales tomorrow
Thought for the day:
Deb – The usual mixture of elation and deflation that accompanies the end of any challenge. Today was tinged with disappointment for Mum who didn't quite manage the dream
Mum
–

Slowly walking up to meet Deborah was a pleasure as there was no pressure! When the phone rang I was surprised to hear my friend Margaret from Welshpool offering her congratulations. I regretfully confessed that my arrival in Kirk Yetholm was not quite as I had intended but it was good to hear from friends at home
Pictures

Cotton grass on the Cheviot Hills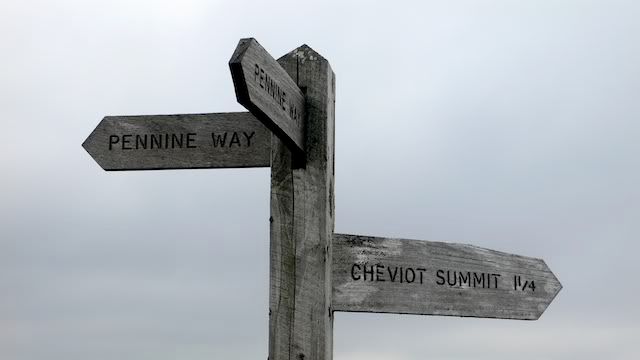 Decision point - The Cheviot or not?



Cheviot summit Cairn



Rocks at the Schil summit



The final pull up to Whitelaw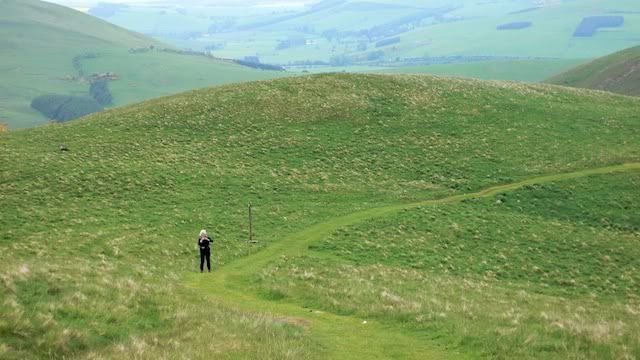 I spot Mum on her way up to meet me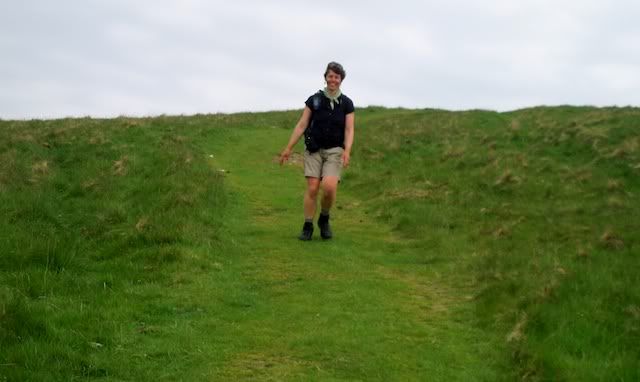 Mum spots me on my way down




The end of 285 miles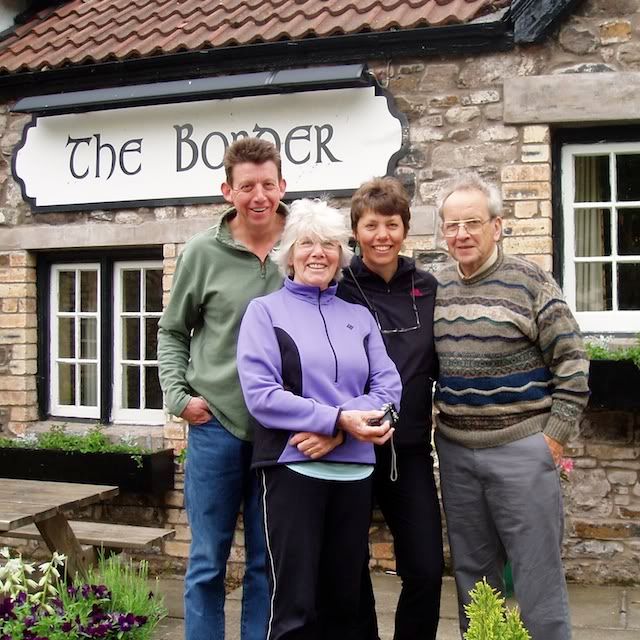 Dad and Roy come to collect us