Day 5 - A helpful pharmacist, a surprising coffee stop and a stretch of tow path
Friday 16th May
Cowling to Near Gargrave

11.6 miles
Susan provided us with a lovely breakfast including fresh fruit, homemade bread and preserves. We delayed leaving until 9 am so that we could visit the local pharmacy - Mum had mislaid her second pack of heart medication tablets. Thankfully the pharmacist was very helpful and was able to sell Mum a 5 day supply but it took a while to sort out the paperwork so I waited outside and programmed the days route into the GPS. Panic over and suitably replenished with drugs we left the village passing Cowling Parish Church and the local primary school. We waved to the children hard at work behind the large windows. An undulating route took us through lush farmland and down into the pretty village of Lothersdale. By now it was nearly 11.30 and we thought a coffee at the Hare and Hounds would be appropriate but unfortunately the pub didn't open until 12 – not even for a loo stop! As we walked on we met a lady carrying a saucepan and a large ladle, she kindly asked if we needed any help and on hearing we were looking for a loo invited us into the village hall where she and another local lady were busy preparing for the monthly OAP's luncheon. We used the loo and were also treated to a coffee. The hall looked most inviting; a large table was dressed for lunch with 20 place settings, fresh flowers and serviettes to match the room décor. We stayed to chat for a while about village life and long distant walking, one of the ladies had walked both the Coast to Coast and Offa's Dyke and so could appreciate our efforts.
The climb out of Lotherdale was gentle but sustained; as we approached the high point of Pinshaw beacon it was threatening to rain so we delayed our lunch break until meeting the Colne to Carleton road. It was a rather noisy lunch stop, next to the cars whizzing over the cattle grid but we thoroughly enjoyed Susan's tuna and salad sandwiches whilst sheltering in the lee of the wall.
Descending into Thornton-in-Craven we somehow missed the path and ventured too far to the west, resulting in a little extra mileage traipsing through long wet grass along the riverbank. Once back on track in Thornton we passed some pretty cottages as we left the village and then a Pennine Way sign directed us down across a field only to find ourselves trapped, hemmed in by drainage ditches on three sides. We reluctantly retraced our steps and eventually reached the Leeds Liverpool canal. The canal was well hidden; our only clue to its presence was the distant sound of chugging narrow boats. An easy stroll along the tow path brought us to East Marton and just after the famous double-arched bridge we went in search of the tea rooms advertised on the tow path. Here we indulged in something called a lumpy bumpy cake (a concoction of biscuit, chocolate and marshmallow) and lots of hot tea before the final mile to Newton Grange Farm. The farmhouse was large and impressive and we met Catherine in the garden doing a bit of weeding. We were surprised to learn that we had the whole house to ourselves as Catherine and her husband live on a neighbouring farm and just run Newton Grange as a guest house. The interior of the farmhouse was very elegant and our room was huge – plenty of space to spread out all our stuff and guess what …. Mum found her missing pack of pills!
Catherine gave us a lift back to East Marton where we ate supper in the Cross Keys. Hostelries in this part of Yorkshire are obviously used to very hearty appetites as my mushroom stroganoff would of fed two people and Mum's fish was struggling to stay on the plate. The walk back to the farmhouse was very welcome. It felt very grand having the key to such an impressive front door. We watched TV for a while, marvelling at a group of disabled teenagers attempting to scale a mountain in the Andes, it certainly put any of our minor aches and pains into perspective. We waited up to catch the weather forecast but both fell asleep in the armchairs before it came on.
Thought for the day:
Deb – Feeling very relieved that Mum has found the rest of her medication
Mum
–

I felt that I qualified for the OAP luncheon in Lothersdale today. As an ex-Liverpudlian it was odd to think that the canal would lead me back to my childhood home
Pictures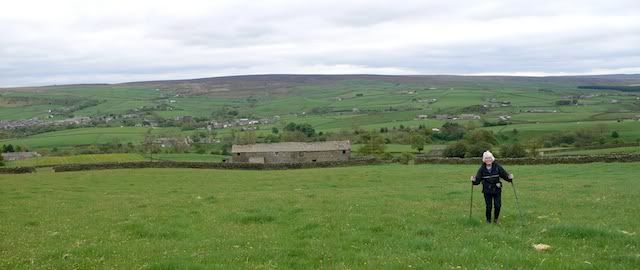 Heading North out of Cowling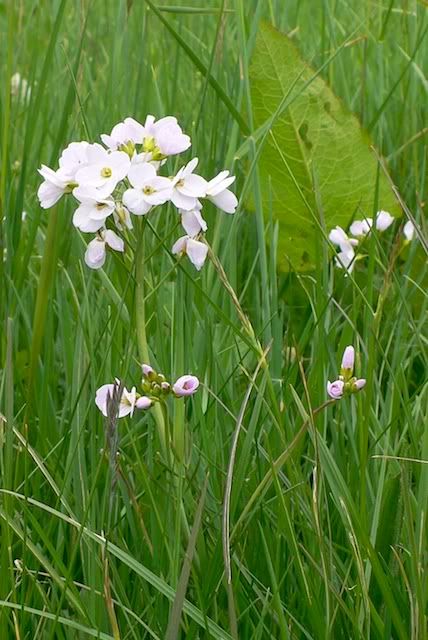 Meadow flowers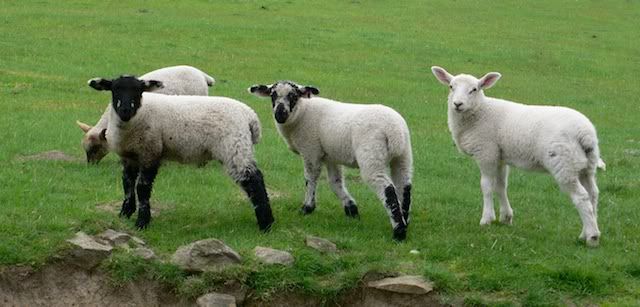 Three very curious lambs



The village of Lothersdale



Lothersdale Village Hall set for the OAP luncheon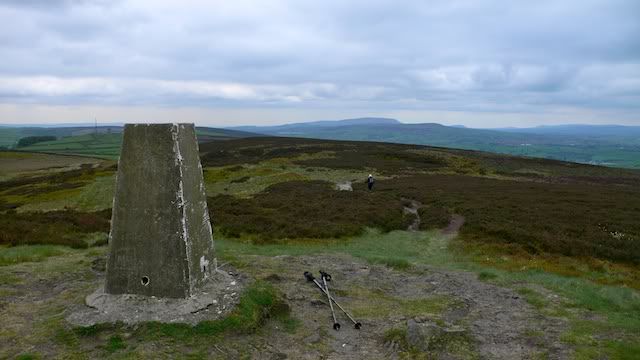 Pinshaw Beacon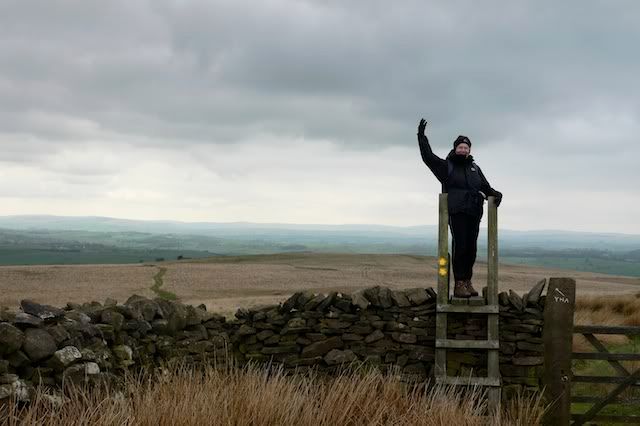 Heading down to Thornton-in-Craven



The Leeds Liverpool Canal hiding in the trees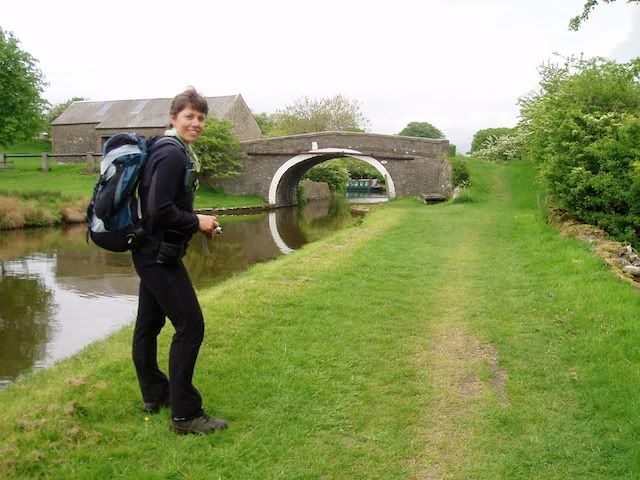 An easy stroll along the towpath



The famous double decker bridge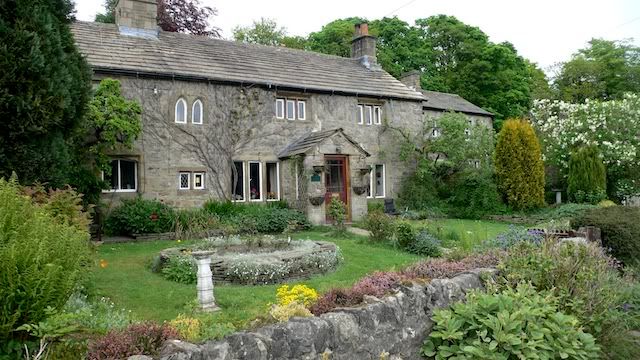 The pretty village of East Marton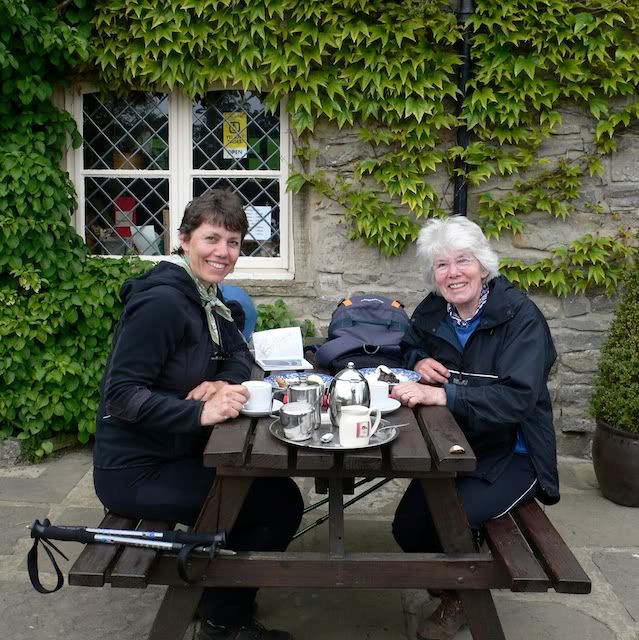 Hot tea and lumpy bumpy cake!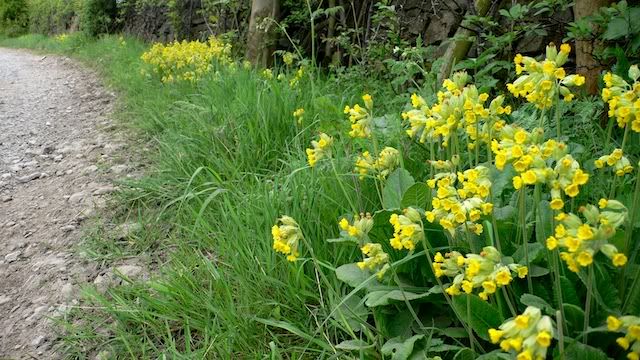 Cowslips on the path to Newton Grange



The grand entrance to Newton Grange Farm



Huge meals for healthy appetites at the Cross Keys