Day 6 - A shorter day with a damp finish but a great youth hostel


Saturday 17th May
Near Gargrave to Malham

10 miles
We both slept well and Catherine returned to serve breakfast in the gracious dining room overlooking the fields full of lambs. We watched a squirrel run along the top of the garden fence looking as if he was a champion huddler. Being only 2 miles away, we decided to shop for lunch in Gargrave. Walking along the towpath, we encountered wafts of sizzling bacon emerging from many of the narrow boats moored along the canal side but our excellent breakfast at Newton Grange inhibited any drooling. The short detour into Gargrave enabled us to visit the post office, the public loos and the local Co-Op. I wrapped two hot pasties in my hat and buried them deep in the rucksack hoping to keep them warm until we stopped for lunch. Today's walk was undemanding so we made a second detour from the path into the village of Airton where we found, completely by chance, an excellent farm shop and café. On arriving we expressed our surprise that the establishment was not advertised and signposted from the Pennine Way – the owner explained, with distain, that it was because we were now in the Yorkshire Dales National Park but he was very glad that we had managed to find it . I promised to give him a mention in my journal. The café was very welcoming, furnished with large rustic furniture and full of diners enjoying a Saturday lunch. We just had coffee and sat in some very comfortable leather armchairs. For the first time in the trip I could of happily stayed there all afternoon so sensibly we did not linger long and headed back for the trail.
As promised here is the advert….
Town End Farm Shop in Airton www.malhamdale.com/townend.htm
Just before reaching Hanlith we stopped to eat our pasties, and yes, they were still just warm. We perched on a fallen log by the entrance to a wood carpeted with wild garlic and watched a scout troop mess about in the river.
Just before reaching Malham the rain came down, not enough to warrant waterproof trousers but it did obscure any onward view to Malham Cove. Walking into the village we saw several wedding guests scurrying between their cars and the hotel. All the B&Bs were fully booked so we had to stay in the Youth Hostel but this proved to be an excellent choice. We arrived at 3 pm and as the reception desk did not open until 5 pm we took advantage of the comfy sofas in the quiet room and dozed in the warm until the hostel was fully open.
Deciding to eat at the hostel was a good move and luckily we only had to share our dormitory with one other person. A lovely lady called Shelia who was celebrating her 60th birthday by enjoying 5 days of walking with her husband George.
We shared a dining table with Shelia & George and Brian, a man in his 60's hoping to walk from Lands End to John O'Groats in 10 weeks. He made us feel very humble as he was carrying all his camping gear and walking alone. As Brian's progress was faster than ours we didn't see him again but we stayed in some of the same places further along the trail and heard he was going well – hopefully he achieved his goal. We relaxed with coffee in the lounge and Mum was in bed by 9.30. I stayed up to chat to some moutain bikers from Newark. Two of them had been Nottinghamshire miners during the 1984 miners strike and as I was studying at Sheffield University at the same time it was interesting to compare our different experiences and memories. It was late before I finally crept upstairs to bed; the bunkbeds were comfortable but very squeaky so I tried hard not to move around too much
Thought for the day:
Deb – Despite the short day I was surprisingly tired, perhaps it was due to the changing weather
Mum
–

Still feeling good. Returning to Malham reminded me of a previous walking holiday with my rambling group from Welshpool but that time it was in deep snow!
Pictures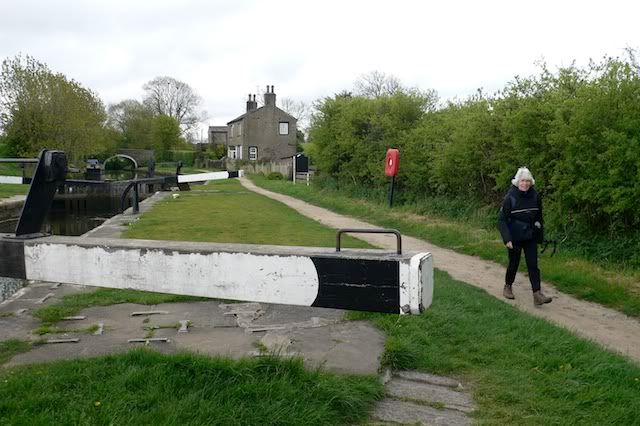 The locks at Bank Newton



A new family on the canal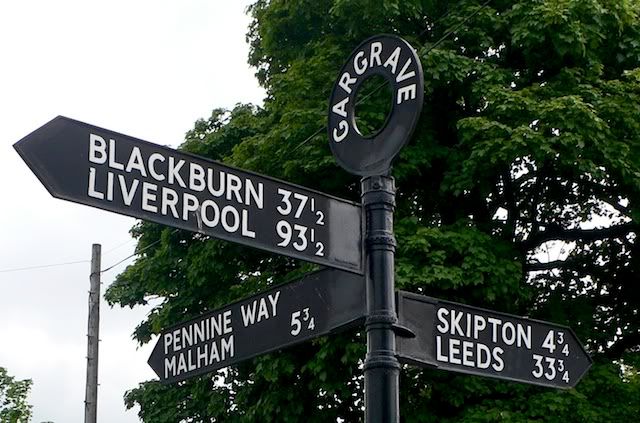 A crossroads at Gargrave



Flood damage on the banks of the River Aire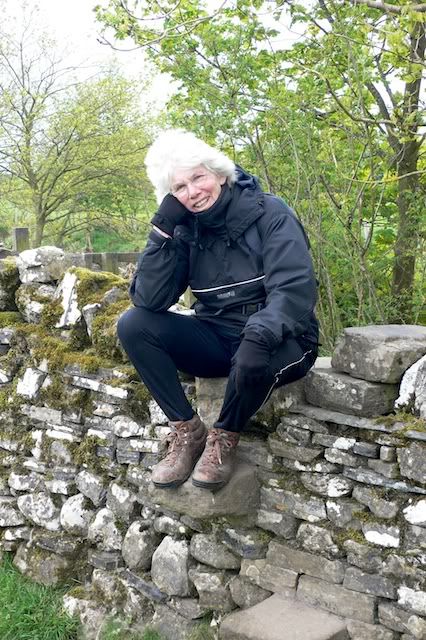 How much further to Malham?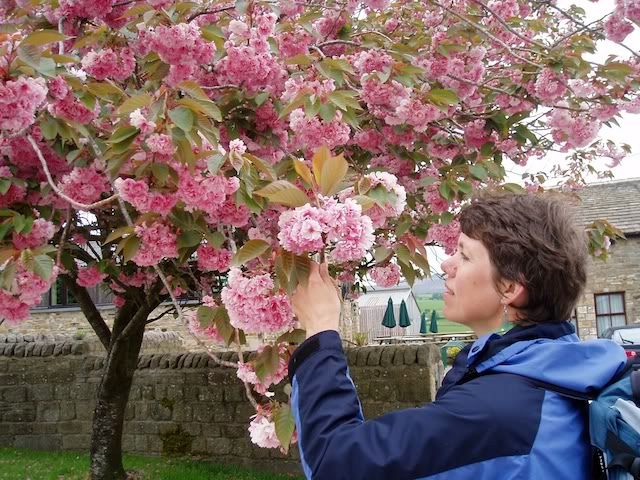 Cherry blossom at Town End Farm Shop, Airton



Warm pasties for lunch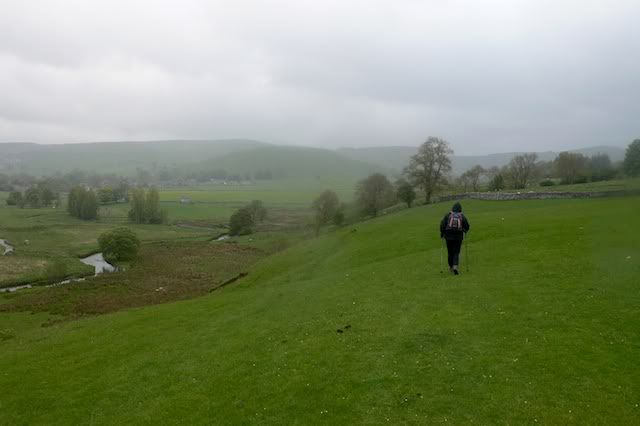 Approaching Malham in the rain