Day 7 - Limestone country and Pen-y-Ghent
Sunday 18th May

Malham to Horton-in-Ribblesdale

16.1 miles
Breakfast was timetabled for 8a.m. We went down early but the dining room was already full of mountain bikers. The buffet system worked well and we enjoyed a good choice of cereal, fruit, bread, croissants, ham, cheese, yoghurt and all the usual hot breakfast items. Again we shared a table with Shelia & George and Brian. George was a bit grumpy as he had endured a very disturbed night, having to share with some of the mountain bikers who came in late, were very noisy and then got up for a pre-6 a.m. ride. Over several cups of tea we discovered that George and Sheila had only been together for 11 years, I was cheeky enough to ask because they still had a honeymoon feel about them – I hope they weren't offended.
We left the hostel in bright sunshine and headed for Malham Cove; it was half in shade but still looked majestic against the blue sky. Slowly we made our way up the steps to the left and before too long we were at the top, skipping across the famous limestone pavement – OK, maybe we weren't quite skipping – that would of probably resulted in a broken ankle - but we did feel exhilarated. The onward route took us through a mini limestone gorge to emerge at a road overlooking Malham Tarn. Wishing that the field centre sold morning coffee we had to be content with our water bottles. We noticed several artists painting the idyllic scenes from within the grounds of the field centre and were further amused by a sheep using a low branch as a scratching post.
We continued on towards Fountains Fell. At Tennants Gill farm we met a group of ten walkers who we later learned were on a Holiday Fellowship vacation, experiencing a 5-day taster of the Pennine Way. They soon pulled ahead of us but we were to meet them several more times over the next 5 days. We lunched in the shelter of a wall overlooking Pen-y-Ghent. With such a good view of its profile Mum was very keen to know about the alternative path that would avoid the summit. Descending to the road we caught up with the HF group and learnt that one of the party was a 77 year old Norwegian who had just completed the Cotswold Way, he had not enjoyed it because it was too congested – "too many busy roads to cross and it too often ventured through peoples gardens" – he was much preferring the open spaces of the Pennine Way.
On the short road section we encountered many cyclists on racing bikes doing some sort of time trial. As we approached Churn Milk Hole at the foot of Pen-y-Ghent Mum was still deliberating on whether or not to miss out the summit. She was just about set on taking the short cut when we caught up with the HF group again and noted that the 77 year old was already on his way up – not to be outdone she decided to have a go. Slowly and steadily we made the ascent, the wind picking up as we approached the rocky ramparts. We were accompanied by lots of rabbits and were passed by a fell runner training for the Three Peaks race. We didn't hang around on the top as it was very cold, just long enough for a few photos and a chat to a father and son team – the Dad agreeing with Mum that probably neither of them would ever be up here again! We donned all our layers for the descent into Horton and as we neared the village we were delighted by the playful exploits of a group of lambs, looking as if they were involved in some sort of organised racing game.
We called in at the famous Three Peaks café to sign the Pennine Way book and were glad to read that Brian, the Lands End to John O'Groats walker, was still going strong.
We stayed at the Crown Hotel and enjoyed a soak in the bath – Mum didn't want to get out! The bar was very busy with the celebrations of a couple of local birthdays. Bridget, the 47-year-old birthday girl, entertained us. She was lovely but was very, very drunk – we were introduced to her 18 year old son, Frank, and treated to a blow by blow account of the 2001 foot and mouth disaster in the local farming community. However, Bridget did have the grace to leave our table when our meals arrived. We had ordered 2 Lamb Henry's; they were huge but definitely our least favourite meal of the trip. We had an early night, too tired to even programme the GPS but with no worries as the route to Hawes tomorrow promised to be very straightforward.
Thought for the day:
Deb – I am so proud of Mum reaching the summit of Pen-y-Ghent – I hope it hasn't taken too much out of her
Mum
–

I am well pleased with my ascent of the intimidating Pen-y-Ghent; I was beginning to wonder if it was beyond my capabilities
Pictures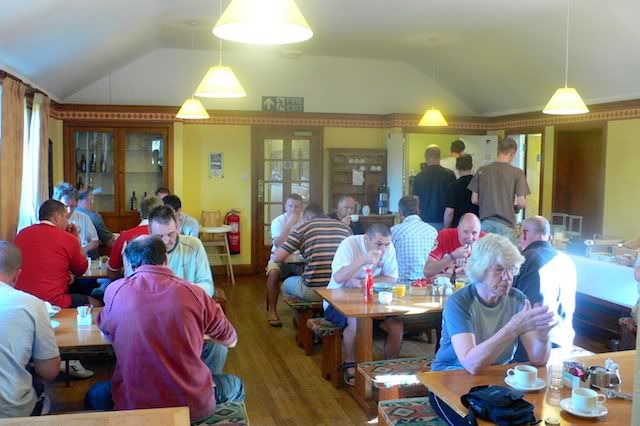 Breakfast at Malham YHA



George & Shelia



Leaving the youth hostel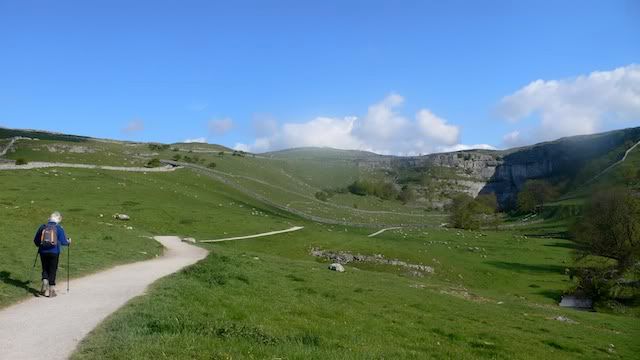 The path to Malham Cove



The steep steps up to the top of Malham Cove



Deb 'skips' over the limestone pavement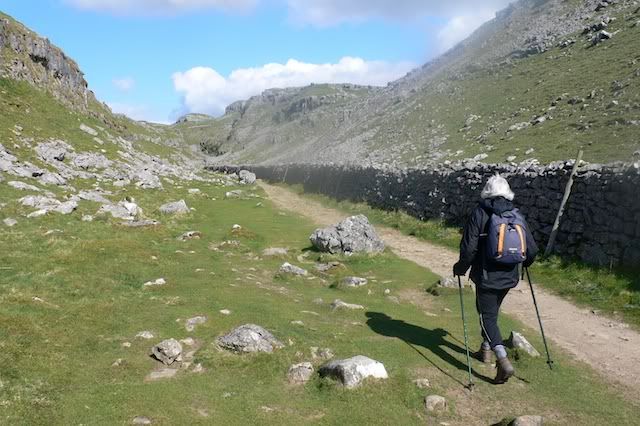 Limestone gorge above Malham Cove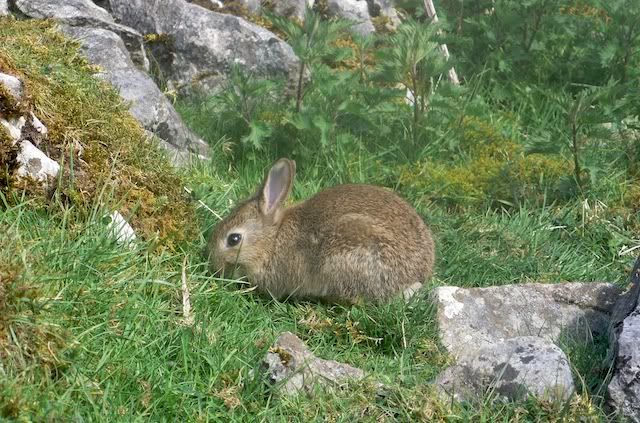 Baby rabbit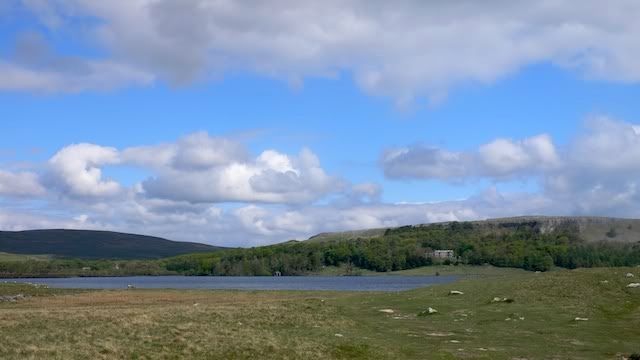 Malham Tarn



Views across Malham Tarn



An interesting scratching post



Our first sighting of the HF group at Tennants Gill



Wild flowers on the moorland



Catching up with the HF group, Pen-y-Ghent on the skyline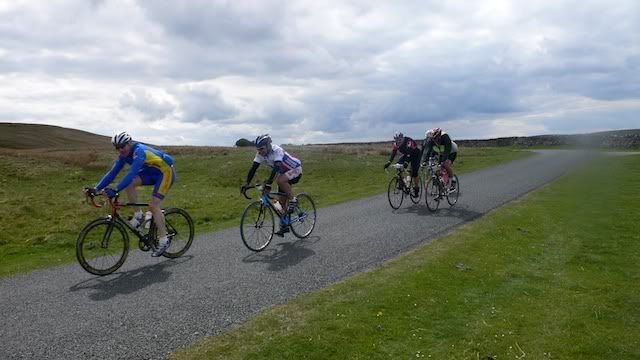 Cycle time trials on the Silverdale road




Mum desperately seeking that short cut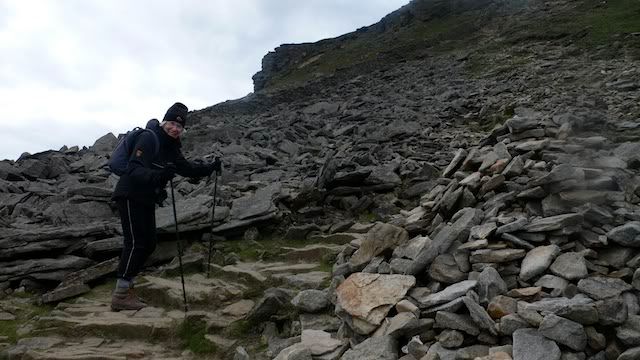 A change of heart and Mum decides to tackle Pen-y-Ghent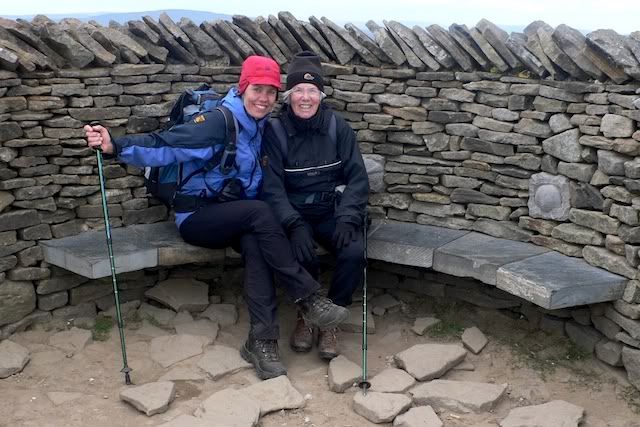 The two of us at the summit



Playful lambs on the way into Horton