Day 9 - A long day and a character-full overnight stop


Tuesday 20th May
Hawes to The Tan Hill Inn

17 miles
Janie and Stuart run a lovely guesthouse with flavours of Janie's Scottish homeland but they are very strict about breakfast times. 8.30 -9.00 a.m. We shared breakfast with Wendy and Steve and two older male guests who were enjoying a gentler holiday than us four. Another excellent breakfast but we decided to buy our packed lunch in Hawes today. Over breakfast Wendy explained that her hip was playing up and asked about our luggage transfer service, as all four of us were going to the Tan Hill I suggested she put some of her stuff in my suitcase. It was a bit of a squeeze but we finally got it zipped up and wondered if Brigantes would think that I'd done a lot of shopping in Hawes.
Before leaving we chatted to Janie and Stuart about the famous Doreen Whitehouse who we learned has now retired and had sold Butt House. We bought some delicious looking sandwiches from The Chaste in the centre of Hawes and were soon on our way.
It was glorious walking weather today, bright blue skies, fluffy white clouds and just a slight breeze. Some gentle farmland walking brought us to Hawdraw where we declined the detour to see the waterfall behind the Green Dragon pub. Instead we made a start on the 5 mile pull up to Great Shunner Fell, at 716m the highest point on our journey so far. Using the GPS were worked out when we were half way up and stopped for a coffee from our new flask. We endured the climb in solitude apart from an odd little machine on caterpillar wheels working in the distance, spreading something over the hillside. We guessed that it might be feed for the black grouse as earlier we had seen a sign explaining that the moorland habitat was being improved to encourage more birdlife.
We made the summit by about 1pm and chose the appropriate quadrant of the large windbreak in which to eat our lunch. Soon we were joined by the HF group who had been following us up the fell. Ginny, a Canadian from Toronto, had been on the internet last night and had found our Coast to Coast journal and so now knew much more about us – a slightly strange feeling. The group remained our companions for most of the day until Keld where they were picked up by their minibus. Although still sunny we donned our fleeces to make the descent into Thwaite where the Kearton Tearooms beckoned. Here we indulged a leisurely pot of tea and some scones despite knowing we still had 7 miles to cover. The first 3 miles around Kidson hill were deceptively tough. We departed before the HF group but it wasn't long before we saw them coming up the hill behind us with Ginny at the front as usual. Whilst sharing the rough track we spotted the path below in the Swaledale valley, Mum and I reminisced about our walk along it from Keld to Reeth on our Coast-to-Coast adventure in 2006. Eventually the path began to descend into Keld after a very long 3 miles and I finally managed to capture one of the many low flying aeroplanes on camera. At Keld we bid farewell to the HF group not sure if we would see them in Bowes tomorrow. We ate our oranges by the side of Kidson Force as Mum gathered herself for the final push up to Tan Hill.
Heading up to East Stone Dale Farm the steepness of the climb and the beautiful evening light warranted several backward glances down towards Keld and Kidson Hill behind. As we ascended we got ever-improving views over Butt House and the old Keld Youth Hostel that is now known as Keld Lodge and is owned by our luggage company, Brigantes. The 228m ascent was nicely split into two sharp pulls and two more gentle meanders over the side of Black Moor. We encountered lots of lapwings and disturbed a pair of black grouse who flew up right in front of us leaving their tiny chicks to scurry in all directions. The guidebook seemed to suggest that we would see the Inn long before we did so it was a pleasant surprise to see it so close when it finally came into view.
Since leaving Keld I had been trying, without success, to get a phone signal in order to tell Wendy not to wait for our arrival before retrieving her gear from my case. Obviously Tan Hill is not a place to be reliant on your mobile phone. We finally arrived at 8 p.m. taking care not to let the large lamb in through the door. Inside the fire was burning and the bar looked incredibly inviting across the stone flagged floor. Through in the lounge we spotted Wendy and Steve. Wendy dressed in a rather fetching miniskirt – all she had left in her rucksack but she was quite happy clutching her beer and waiting for some pub grub. We were not surprised to see the two caid lambs behind the bar having previously read of the unusual goings on at the Tan Hill Inn on the internet. We booked in, showered in the smallest bathroom ever and quickly returned to the bar to order supper. The two lambs were now asleep in front of the fire and we tucked into some very good food and some Theakstons XB whilst chatting to Wendy and Steve.

Another early night, we were too tired to even unpack the rucksack although Mum did manage to wash a few pairs of socks. Any idea of writing my diary or programming the GPS went right out of the window
Thought for the day:
Deb – I had underestimated the roughness of the track around Kidson Hill but at least the 4-mile climb up to Tan Hill was not quite as tough as I had anticipated
Mum
–

I really appreciate being in the beautiful UK countryside; there is a special attraction about these isolated places
Pictures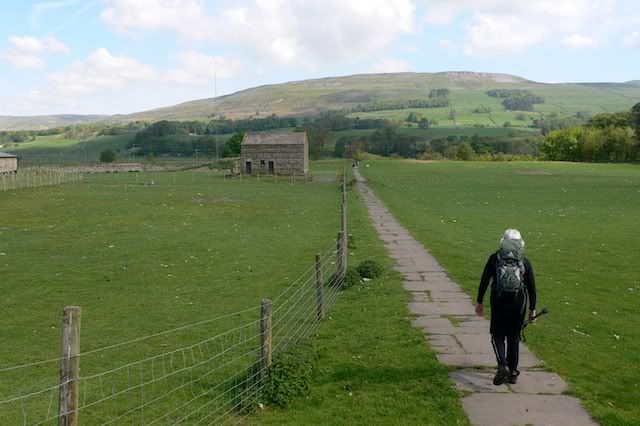 Mum leaving Hawes with her new rucksac



Economical use of stone flags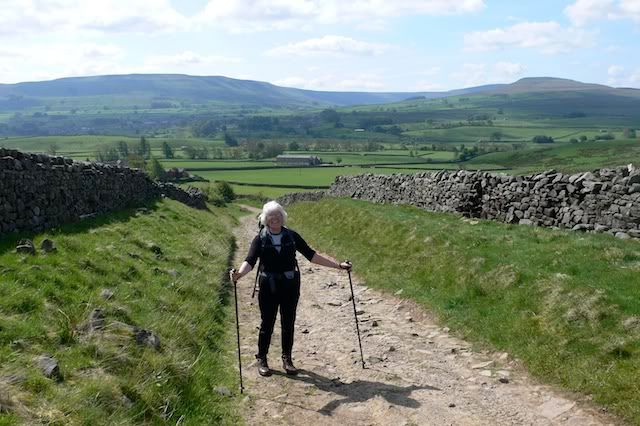 Beginning the long climb up Great Shunner Fell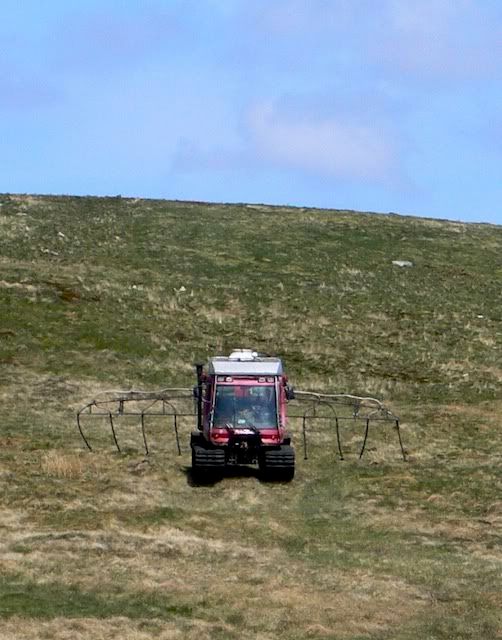 Strange vehicles on the moor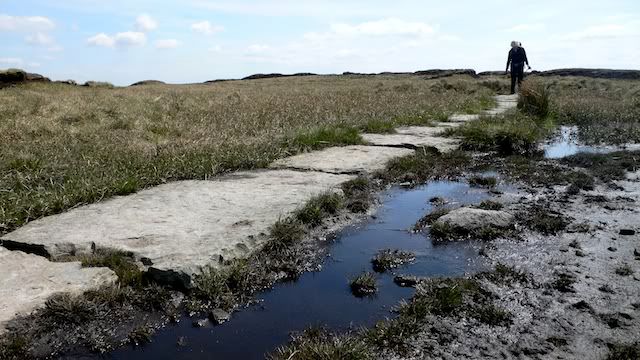 We were glad of the stone flagged path here

Marsh Marigolds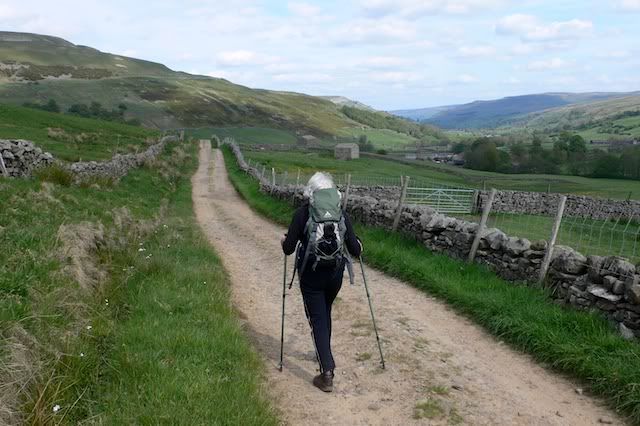 Descending into Thwaite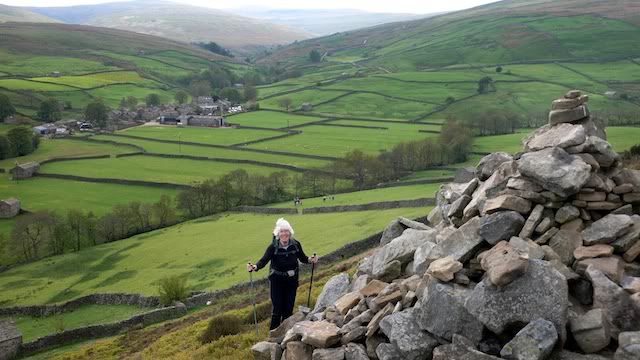 Climbing out of Thwaite



The rough track around Kidson Hill



A low flying jet makes us all duck



Peter leads his HF group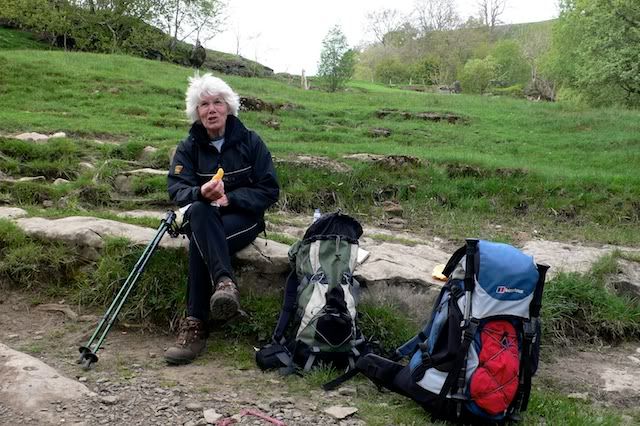 Mum enjoys an orange before the final pull of the day



Looking across to Butt House, Keld Lodge and Keld village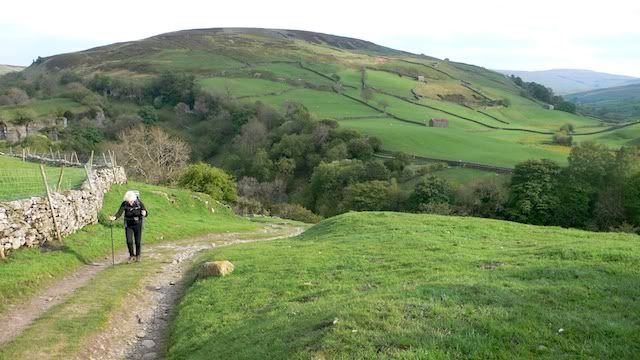 Climbing out of Swaledale with Kidson Hill behind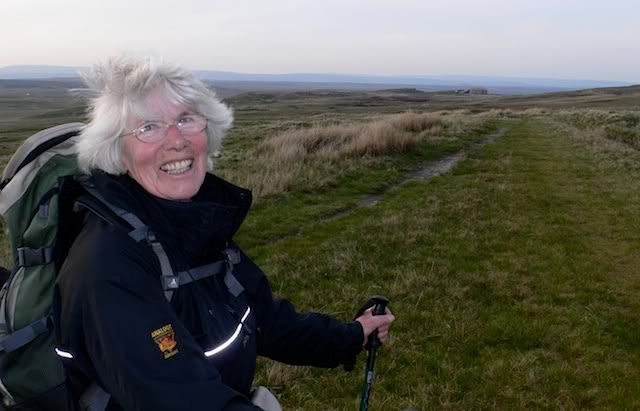 Finally we spot Tan Hill Inn on the horizon



Notice on the door of the pub



In the bar!